PM Nabbanja Donated Karamoja Iron Sheets To Kaaliiro Catholic Church
The Bishop Discovered The Mischief After The Grand Misallocation Was Unearthed In Bugishu
Uganda Today: According to area member of Parliament honourable Gonzaga Ssewungu, the prime minister presided over a function at Vira Maria Masaka where the Bishop made an appeal for contribution to roof Kaaliiro Catholic church in Vira Maria parish.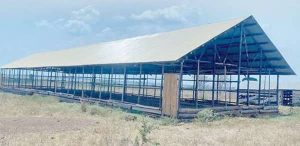 Unknown to the Bishop and and the laity that the Prime Minister was donating iron sheets from Karamoja, they welcomed the gesture with satisfaction of a baby ensconced on the lap of its mother suckling on breast.
Fortunately when the iron sheets reached Vira Maria, they weren't immediately used but they were kept at the Parish pending reaching the level of roofing.
It was at this stage that the cat was let of of the bag with the revelation of Karamoja Iron sheets misallocation. According to Ssewungu, the Bishop decided to keep the iron sheets at the the parish awaiting final decision.
Advertising

If the donor decides to get back her donation, she is at liberty to collect them.