National NGO Bureau Guides Foreign NGO Promoters
After A One Day Workshop 70 Nationals From 5 Countries Were Fully Equipped With Knowledge Of How NGOs Are Expected To Operate In Uganda
Uganda Today: At the invitation of Uganda Korean Association, Uganda National Bureau for Non Government Organisation, in fulfillment of their mission, vision and mandate, didn't hesitate to impart knowledge to foreigners working and residing in Uganda.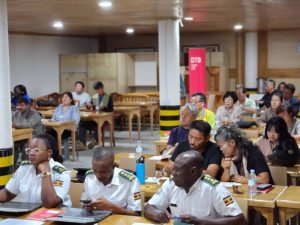 On March 27, 2023 in an interactive session held at Doumo Hotel Kitintale-Bbiina, 37 nationals from Korea, 10 from India, 10 from Pakistan, 08 from China and 05 from Taiwan were taken through the requisite guidelines on issues to do with requirements of NGO Bureau operations and what's expected of NGOs in Uganda.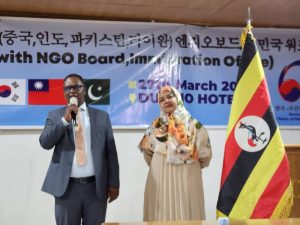 Senior compliance officers Ronald and Mariam from National NGO Bureau facilitated  a three hour work shop.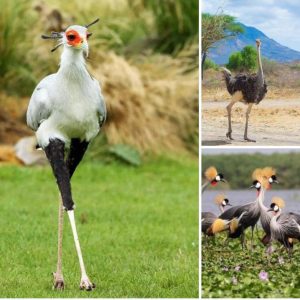 Uganda National Bureau for Non Government Organisations is mandated with the task to register, monitor, regulate, inspect, coordinate and over see NGO operations in Uganda.
Advertising

Their mission is to provide an enabling environment for the empowerment of NGO sector while their vision is to see a vibrant accountable NGO sector enabling citizens' advancement and self transformation.
Mr. Kim Kyungsoo, the Chairperson and convener of the workshop thanked the Bureau for their positive response towards their call. He appreciated the National Bureau in charge of NGOs for their services beyond call of duty.
He further noted that since inception of Korean National Association in Uganda 30 years ago, they have never formerly registered their association this has not only hampered smooth running, but has limited their activities.
It's against this background that nationals from the 5 nations of South Korea, India, Pakistan China and Taiwan sought to streamline their activities in Uganda.
Meanwhile, the Embassy of South Korea in Uganda is set to celebrate 60 years of bilateral relationship with Uganda.