Laws Are Not Made To Catch Wrong Doers
Ssejusa Should Discern The Fact That Laws Are Enacted To Prevent Crimes But Not To Catch Criminals
Parliament of Uganda at the beginning of this week passed arguably the bill of the "11th parliament" if we're to go by the Speaker's words.
However, the passed bill has stirred unprecedented hue and cry both local and international with some isolated voices calling upon the president not to assent to the bill.
The law will cure lawlessness like what's is seen above for the gay parliar in Kasese
Those voices that are calling upon the president not to sign the bill, the most salient that caught many people's eyes is that of retired general Ssejusa.
Ssejusa's argument.
Ssejusa rightly argues that homosexuality is "a world ideological concept designed to scrap the family concept". However he shoots himself in the foot by dissing the homosexuality bill recently past, describing it as a 'mumbo jumbo' stuff. He even argues that it is a bill which isn't fit to be assented to into an act.
Advertising

He likened the bill to the two misguided concepts of our forefathers who thought that they would successfully fight religion and colonisation using their native superstition powers and spears and arrows respectively.!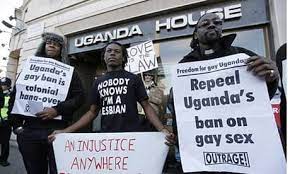 As we're all aware, our forefathers met their Waterloo mesirably, but for Ssejusa to use the defeat of the colonised and liken it to what he thinks is an inevitable triumph of perpetrators of homosexuality because they have money, is not only a blanket statement, but largely it's a hollow argument.
Laws are enacted to prevent and cure an identified mischief (crime) but not to catch criminals.
Ssejusa cites the penal code law banning prostitution in Uganda and that of Enguli or Waragi act of 1920 which remained on paper without enforcement and effective prosecution of offenders. He puts up a spirited argument that "prostitution should be legalised and taxed just as it is in the western world".
Ssejusa should be reminded that just as he has rightly described "homosexuality as a world ideological war", just like any other war, it requires formulation of strategic fronts to dislodge it from modern society.
The most strategic front is through legislation to effectively guard against any allurement that would attract unsuspecting individuals especially the youth.
Unlike the existing law in the penal code, that deals with the offenders only, this new homosexuality act encompasses the promoters and even entraps media outlets that accentuates the vice.
Let's not let our guards down, the Baganda say "obutono bulwanira mu Sanja" – small troups fight on, while hiding under dry banana leaves on banana trees to avoid catching sight of the enemy.
Avoiding deep penetration of homosexuality that will eventually obliterate the vital family institution concept, is a real war that requires amalgameted strategies so that it doesn't get entrenched in schools, and all other societal youth dominated structures.
President without hesitation should assent to this bill, because the vice just like that of sex workers is committed under closed structures where offenders are most often two consenting adults, making it next to impossible to bring proof of witness in courts of law.
The bill effectively traps promoters (promoters can be conspicuously identified) thus preventing it's unchecked spread leading to its commitment under closed structures.