Land Grabbing
Kayunga Case Point Land Grabbing Exposes UPDF
Uganda Today: There has always been uncountable skirmishes of land grabbing especially in Buganda and lately in Acholi by the marauding Balalo all protected by armed men in UPDF uniforms or civilian attires.
Alleged Kayunga Land Debacle
This video below clearly brings to the fore the army's direct involvement in land grabbing in various parts of the country. Although in this particular case story below, the UPDF gave  an explanation that they were protecting land that was bought by GM company, severally the army has been cited in matters of land grabbing and stationing UPDF soldiers to offer protection after evicting original owners. (exit mobile view/ read original to watch video)
Attack On UPDF Soldiers  On Patrol  By Errant Civilians.
There is a video clip making rounds on the social media showing a group of civilians armed with sticks attacking and manhandling the UPDF soldiers.
The Genesis Of The Conflict.
It's alleged that  the Ssaabanyala of  Bugerere  Kimeze  sold the land to GM Company Limited, but  the family members were against the idea of selling this land.
Therefore, there has been a family land wrangle among family members that culminated into the  attack on our soldiers.The soldiers  are deployed there to protect GM company and the surrounding areas.
Advertising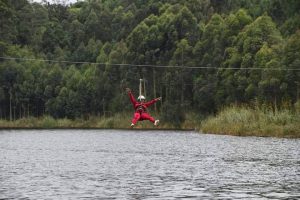 As the soldiers were conducting their routine patrols in the area they were attacked by one of the fighting groups.I would like to commend our soldiers for portraying the highest degree of professionalism and refraining from using maximum force despite the humiliation they went through. This could have turned fatal.
The members of the public should avoid attacking armed security personnel since this can be counterproductive. UPDF is a disciplined, professional and a pro people's Army with well established legal and administrative frameworks and any indiscipline soldier can be reported and action is taken.
 UPDF and Uganda Police are investigating the matter so that the perpetrators can be identified and brought to book. We strongly condemn the unfortunate incident and call upon the members of the public to avoid mob justice and  taking law in their hands.
Major Charles Kabona
UPDF 1 Infantry Division Spokesperson