President Kagame Survives Coup
Prime Minister Says Plotters Were Arrested
President Paul Kagame of Rwanda has survived a coup orchestrated by some elements in Rwanda's national army.
According to a statement released by his Prime Minister Dr. Edwardo Ngirente, the plotters were arrested, and night curfew beginning from 9:00pm was instituted. All foreigners residing on the national territory of Rwanda are to be identified for thorough investigations.   "On the night of January 11, 2023, military service intercepted a military network with ammunition and other war materials. After inquiries, it was confirmed that it was a plot to seize power by force" Ngirente's statement read in part.
Service sanctions will be applied to every identified Rwandan traitor citizen, the statement added.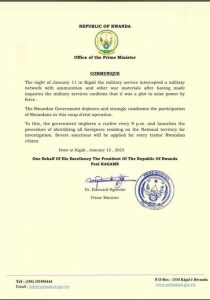 Advertising