Samia Suluhu Challenges Museveni
Lifts 6 Years Ban Of Her Predecessor's Suffocation Of Opposition Political Space.
In a rare show of tolerance amongst African leaders, Tanzanian president has removed a spanner thrown in the works by his predecessor, (Magufuli) with a remarkable political challenge to her counter part in Uganda.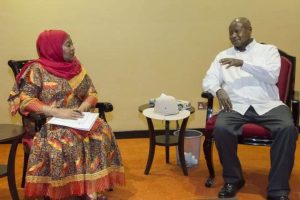 Challenge To Museveni
Given the similar situation in Uganda where president Museveni has suffocated opposition space with legislation that hamper opposition free political mobilisation and freedom of expression, Samia has embarked on the political roadmap that includes electoral reforms.
On the contrary, for Museveni despite the several court pronouncements directing him to institute electoral reforms, 22 years since 2001, when his rival Dr. Kizza Besigye first dragged him to court, Museveni has refused to open up political space despite the court recommended electoral reforms.
Samia Suhulu Stands Out
Advertising

Tanzanian President Samia Suluhu Hassan lifted the longstanding ban on political rallies, which the opposition has been demanding, seeking a level playing field ahead of civic elections next year and the 2025 general election.
Speaking at a meeting with political party leaders in Dar es Salaam, the President directed the police and other security forces to allow parties to hold rallies without undue hassle.
"The government's responsibility is to provide sufficient space for such rallies to be held peacefully regardless of the party's political affiliation and not to try and obstruct them as political rallies are constitutionally legal," she said.
The opposition has remained all but shackled by the unpopular prohibition imposed by President Suluhu's predecessor John Magufuli in 2016 in what became a clampdown on political freedom during his tenure.