Technoserve Uplifts Farming Standards In Kayunga
TechnoServe Helps Kayunga Farmers To Earn 300 Million In Tomatoes. TechnoServe's Global CEO Was Impressed By The Work Of Farmers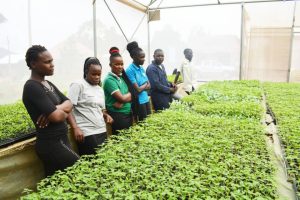 Uganda Today: KAYUNGA – UGANDA
By Hannington Sebuliba
A group of 33 farmers in Kayunga is happy after selling their tomatoes and other vegetables and earned in excess of Uganda shillings 300million. This revelation was made by their chairman Fred Nsereko in Kibuzi Kayunga District as they welcomed TechnServe's Global CEO Will Warshauer as he visited them.
"In just one year, after collaborating with TechnoServe, have been able to increase on our vegetable yields thus making 300million shillings compared to less than 30 million a year before." Nsereko Said.
Advertising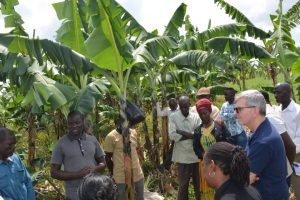 They say that prior to working with TechnoServe, they were using traditional means of farming and their yields were low thus fetching less money, but with the coming in force of Technoserve, they have been able to get the necessary training, better inputs and also ready markets for their produce. They grow tomatoes, pineapples, eggplants, red pepper, bananas, sweet potatoes.
They said that they can now compete on international market because they are using pesticides that are environmentally friendly and this has helped them to uplift their earnings.
According to TechnoServe's Global CEO Will Warshauer, "TechnoServe helps people lift themselves out of poverty by harnessing the power of the private sector.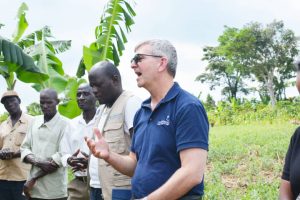 A leading nonprofit organization operating in almost 30 countries, we work with hardworking women and men in the developing world to build competitive farms, businesses, and industries" he says, adding that "By linking people to information, capital, and markets, we have helped millions to create lasting prosperity for their families and communities."
Addressing farmers at Kibuzi in Kayunga, the TechnoServe Global CEO Will Warshauer who was in Africa on a fact finding mission, accompanied by the Regional Director Mefthe Tadese and Country Director Juliet Kyokunda was very happy to see how farmers had applied the knowledge given to them and thus improving on their yields.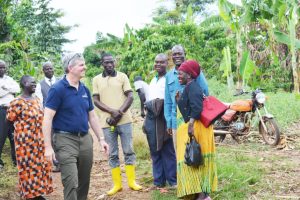 Kayunga Farmers take Technoserve CEO Will Warshauer on a guided tour.
He went on to say that he had always read reports regarding these farmers but was now happy to see it first hand and was very impressed. "When a chairman talks about 300 million, I feel very happy, when a chairman says paying off the debts and saving 45 million i feel very happy. I congratulate the group for making such a huge stride" he said.
Since their earning that increased as a result of better yields, they are now able to offer employment to their fellow villagemates. "Last season we managed to cultivate 7 acres of high yielding tomatoes and harvested 600 cartons of tomatoes" Chairman Nsereko reveals adding that "each of the 400 tomato carton boxes was sold at 500,000= (Uganda Shillings 500,000) and managed to get Uganda Shillings 200,000,000= and the second harvest of 200 carton boxes each was sold at UGx 250,000 and managed to get 50,000,000= thus making a total profit of Uganda shillings 250m" Nsereko wento on to reveal that other members harvested pineapples and the fruits that fetched another 50million shillings. The group managed to get Uganda shillings 300million. He says that the group sat and decided to sit and pay off debts and share the proceeds. They managed to save 50 million shillings which is going to be used for lending out to members at a small profit.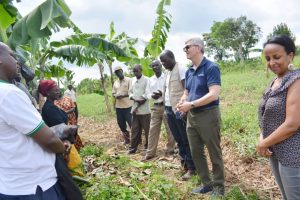 Nsereko, appealed to Technoserve to continue collaborating with them and also to see how they (Technoserve) can assist them have financial support in their business since the inputs are now very expensive. He said that that they find challenges in buying tomatoe seeds and chemicals because they have little capital. They always buy mulching grass at 500,000= per truck which makes their business expensive.
In the second season they are having 15 acres of tomatoes, pineaaples 6 acres , potatoes 4 acres and watermelon 3 acres and entula 4 acres and hotpaper 2 acres. "We expect to get high yields" he aid. He went on to say that the enviromental fiendly chemicles are very expensive. His prayer was that Technoserve assist them to get companies that can supply them chemicals at affrodable prices.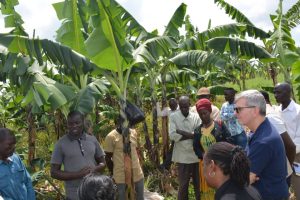 He revealed that in the 15 acres of tomatoes, they expect to harvest 1500 carton boxes of tomatoes. "if the market is okay we might sell at 500,000= per box and then we tripple our income" he said. Nsereko also thanked his fellow farmers for working together as a team. He was happy to recieve the CEO of Technoserve and his team in Kayunga district.
The farmers also revealed to the CEO that Technoserve through collaborations with United Real Exporters Limited, they were able to link them to get market for their produce such as Okra, Ntula, hot pepper and sweet potatoes.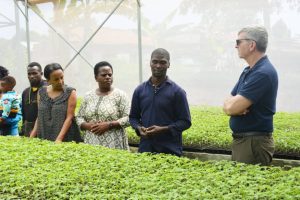 They say that they have a challenge of youth joining because they always want quick money but hastened to add that only 6 youth had joined the group and these are helping them with mulching and women help in weeding.
on the issue of land to expand, the chairman told CEO Will that the group has enough land to expand but the biggest problem at the moment was capital to help them carry out the expansion. Nsereko said that people in the area that have seen what the group does and are not members but have some idle land are ready to hire that land to the group.
CEO asked members about the issue of recruiting more young people who the chairman said would like to get quick money "now that you are getting more money don't you think they will come?" he asked. They responded that with time more and more youth are likely to join the farming group.
On the issue of women joing the group. Grace Asege the Publicity Secretary and who is a woman herself, said that women are having challenges of money capital and transport because most their gardens are miles away from home and yet they (the women ) are the ones who are paying school fees for their children. "the cost of inputs is too high for a rural woman and that's why a few are joining" she said.
Asege thanked Technoserve for connecting them to United Pearl, a company that buys their produce without hustling to go and look for market elsewhere. She also thanked them for the introduction of a new sweet potato variety which has not only improved their incomes but also their food security. She went on to reveal that with this variety, once you cultivate two acres of potatoes, one is for sale and the other is for home consumption. "That's what United Pearl does and we thank Technoserve for connecting us to those people. You can't have money on the account when you don't have food at home" she said.
Another lady in charge of Women's affairs on the group said that women can work but they dont have enough money, transport and inputs. " Women are tied down because of the problems related to capital" she said. She went on to say that most women were not able to come and meet the visitors because of lack of transparency and most of them had just paid school fees. "Women are hardworking but they need support" she said. "We are requesting for transport means so that our husbands can be able to take us to gardens that are far away from our homes" she requested.
The group requested for a tricycle that can be used to transport their produce and very soon a memorandum of understanding will be signed to enable them have it delivered.
Another group that the CEO visited is the 2 months old Nakifuma Farmers Development Group located at Kaama Village, Nakifuma- Naggalama Town Council in Mukono District. This is a group of 24 youths who are running a 120sqm mettalic Greenhouse for seedling raising.
The Chairman of this group Mike Ssegawa was all praises to Technoserve for the training and support given to them. He said that when Technoserve came to their rescue to put up the greenhouse, people had first thought that it was a pentecostal church but later on realised that it was a seed bed. He thanked Technoserve for teaching them how to market their products. "You might be with a very good product, but if you cant sell it, it is useless but you have taught us how to market our products" he said. He went on to say that "You to come and select our place, is one of our achievement even bypassers can come and see what we are doing" he noted.
Ssegawa sais that the greenhouse had now become very small and there was need for expansion as they now have Ordinary growers and advanced growers who are buying their seedlingd at 80shs per seedling. He said that those who buy more are given a discount and also members are encouraged to have gardens at home to enable them market that place.
The group employs eight members and they also have an experrt who works with National Agricultural Organisation (NARO) who gives them technical advice on the work they do.
They intend to expand before the close of the year and the money they have so far got is pooled together so that they start a SACCO where members would be able to borrow some money. "we request for assistance and any support to help us achieve our expansion program" Ssegawa said.
Ssegawa said that Technoserve was linking them to the farmers
Technoserve CEO Will said that he had been impressed by the way the team was working in two months. He was happy that the money realised (3.2m) is going to be used to expand the greenhouse.
"Everybody says that young people don't want to do farming, it takes long to realise the money, the work is too hard, why are you doing farming?" he posed a question. One of the ladies working on the greenhouse farm responded by saying that she does it because it is her passion and currently they lack land.
These Nakifuma youths said that the biggest challenge they are facing is the growing media, capital for expansion and crop pests to farmers who buy their seedlings.
Ssegawa revealed that they sell their seedling on cash but said that they are doing a pilot study on one youth, whom they have given seedlings so that when he sells his harvest he will be able to pay back.
The group grows seedlings of tomatoes, cabbages, sukuma wiki and other vegetables.