Dr. Besigye's Unmatched Opposition Charisma
If President Museveni Leaves Power in 2006, I Will Cease To Be A Son Of Kifefe. Besigye Rightly Described Museveni
Norman Tumuhimbiise, a political analyst and a member of Alliance for National Transformation political party (ANT), in his book, "Politics of Kmanyoko" describes retired colonel Dr. Besigye as a man with rare charisma and unmatched political will.
𝗬𝗼𝘂 𝗰𝗮𝗻 𝗼𝗻𝗹𝘆 𝗳𝗶𝗻𝗱 𝘀𝘂𝗰𝗵 𝗶𝗻𝘁𝗲𝗿𝗲𝘀𝘁𝗶𝗻𝗴 𝘁𝗼𝗽𝗶𝗰𝘀 𝗮𝗻𝗱 𝗜𝗻𝗳𝗼𝗿𝗺𝗮𝘁𝗶𝗼𝗻 𝗶𝗻 𝘁𝗵𝗲 𝗯𝗼𝗼𝗸 𝗼𝗳 𝘁𝗵𝗲 "𝗞𝗼𝗺𝗮𝗻𝘆𝗼𝗸𝗼 𝗣𝗼𝗹𝗶𝘁𝗶𝗰𝘀".
G͟e͟t͟ y͟o͟u͟r͟ c͟o͟p͟y͟ n͟o͟w͟ a͟t͟ a͟n͟ a͟f͟f͟o͟r͟d͟a͟b͟l͟e͟ p͟r͟i͟c͟e͟ .
A͟U͟T͟H͟O͟R͟ Tumuhimbise Norman
Years later, Museveni's personal Physician Col.Warren Kizza Besigye Kifeefe would shock him beyond imagination. It had not been heard of anywhere before, particularly in Africa, that a serving officer at a rank of a Colonel, a permanent member of the NRA high Command , moreover the Presidents personal physician, to show his discontent to his appointing authority and Commander in Chief.
Advertising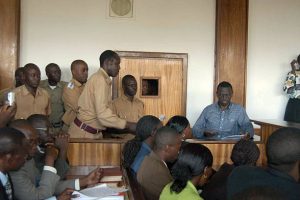 If there is any civilized and courageous officer that Uganda's NRA has ever had , specifically taking the bull by its horn in a civilized manner, that officer is Dr.𝗕𝗲𝘀𝗶𝗴𝘆𝗲 . I say civilized because many other military officers in Africa , and in the world would feel comfortable plotting coups and assassinating their commanders in chief, like Sgt. Samuel Kanyon Doe of Liberia did in 1980.
Many people especially UPDF top leadership, despite agreeing with the gist of Dr Kizza Besigye's argument he put out in 2000 criticizing Mr. Museveni, couldn't fathom the "dare devil" character Dr.Besigye exhibited and the type of God he believed. Dr. Besigye became a house hold name amongst senior and Junior Officers and the most hated personality amongst Museveni's bootlickers and sycophants.
To some progressive officers like Gen. David Tinyefuza aka Ssejusa , Amanya Mushega , Major Gen B. Kazoora and Col Sserwanga Lwanga among others, both in Military and Civil service, Besigye was not only Courageous but also another breed of leaders with capacity to question the powers that be and likely to succeed Museveni whom many had assessed to have lost focus .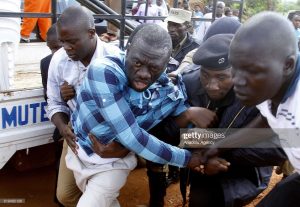 On the other hand the sycophants regarded him as an enemy of revolution, an enemy of the People, selfish , greedy for power and an impatient cadre though my prediction is that they actually viewed Dr Besigye as an enemy to their ill intentions of stealing from the poor and Museveni's life presidency.
Dr Besigye came onto the scene with a political style characterised by hard talk , hard speeches but most importantly that touching message of hope . To be honest, Dr Besigye never insulted Museveni save for the few people's misinterpretation of his  tough,  and angry speeches. In any case , who wouldnt be angry with this regime ?.
What is factual is that Besigye understood Museveni's Modus operandi: he seemed to know how Museveni lies, when he was lying and when was about to lie. Could this be because they had stayed into each others Company as a patient and a Doctor? In fact at one point following Museveni's statement that he would retire in 2006. Besigye made remarks that he would cease to be Kifefes son if Museveni retired. What a political prophet!