Buganda Land Board Tersely Reacts To Tibuhaburwa Comments
BLB Is Resolute On Defending Its Mandate
While passing out 5200 probationer police constables at Kabalye Police Trainig School in Masindi, president Tibuhaburwa said "Buganda Land Board is illegal".
This isn't the first time that president Tibuhaburwa has made a swipe at land related matters in Buganda.
This didn't go down well with Mengo's Buganda Land Board that came out with an immediate reaction below.
By Bugaya Dennis: Spokesperson Buganda Land Board.
Advertising

The Constitution under Article 246(3) and The Traditional Rulers' (Restitution of Assets and Properties) Act: creates the office of the Traditional Ruler as a Corporation Sole with the rights of any legal entity. Owning Property including Land and Shares is one of such rights. Pursuant to that The Kabaka of Buganda incorporated a company Buganda Land Board, whose sole Owner is the Kabaka of Buganda. This was done under the Companies Act 2012. The Mandate of BLB is well established under the Objective clause of its Memorandum and Articles of Association. But key amongst them is to Look after and also Manage all Assets and Properties that belong to the Institution of the Kabaka of Buganda ( Obwakabaka).
Buganda Land Board is accountable to the Kabaka of Buganda in his Official Capacity since he is the shareholder for and and on behalf of all people in the Kingdom of Buganda. This is in line with the modern Corporate Practices and he has maintained that by appointing a Board of Directors in line with the Companies Act and a body of Attorneys in line with The Registration of Titles Act.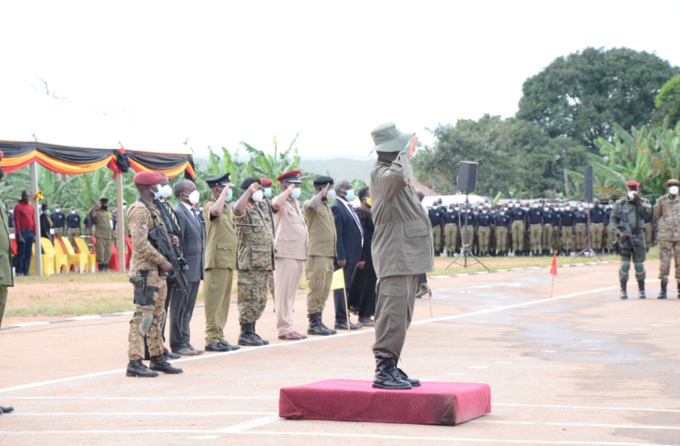 President Museveni Tibuhaburwa taking a salute at Kabalye police Training Institute at the function of passing out police constables. Courtesy Photo
A directive to an organ of the Political party to mobilise against an Institution of the Kabaka of Buganda is an attempt to push the institution into rigours of partisan politics . The institution is law abiding and will not delve into partisan politics because that is Contrary to laws of the land. BLB shall remain focused on its core objectives of making sure all tenants on Kabaka's land are issued with land titles by the Ministry of Lands Housing and Urban Development. We shall also make sure that the Institution of the Kabaka of Buganda receives its rental dues from the Government of Uganda where government of Uganda occupies its land like Makindye Barracks , Court Martial , State Lodge Buvuma, National Water Lubigi installation and Gaba, Prison Facilities like Kigo,Sentema etc. This will be done through the existing legal framework and in close coordination with the user departments of the government of the Republic of Uganda.
As BLB , We shall also make sure that we spearhead development projects like Housing projects to close the decent housing deficit in the country. The recent examples are Mirembe Villas Housing project in Kigo and the Affordable Housing project in Sentema Busiro. This Will supplement Government efforts like those National Housing Corporation.
For Bibanja Holders who are desirous of remaining Bibanja holders and who are willingly NOT opting for land Titles either out of unaffordability or for any other reason ; BLB has undertaken a massive registration and survey exercise and issuance of Bibanja Certificates and Busuulu Tickets in order to Secure their Occupancy. BLB has gone ahead to sign beneficial MOUs with Financial Institutions and Banks in order to give Bibanja Certificates of occupancy Financial Cognisance. Many of these Bibanja have been surveyed by BLB in order to bring them in line with the Government's Land information system. This has widened the Tax base for Government as the process of bringing these hitherto un registered interests under the Registration of Titles Act. Inevitably has tax implications . Stamp duty and Registration fees are paid to government through Uganda Revenue Authority. We believe these efforts should be supported rather than castigated.
We, as a Buganda Kingdom institution shall pursue the path of engagement, diplomacy, beneficial comparison, technological innovation; mass education of people especially about their land rights. We shall always do this under the wise Guidance and Stewardship of the Kabaka of Buganda who is the Custodian and Registered Proprietor of all the Land that we manage".
Mid this year while at Kololo presiding over a national event, Tibuhaburwa castigated mailo land tenure system which is predominantly in Buganda, terming it an "evil system"
The Kabaka himself while presiding over his 28th coronation anniversary at Masaka responded to the presidents earlier remarks on mailo land as a ploy to weaken Buganda.