Why Should State Pursue Extrajudicial killings?
The Irony Is That Even The President Condones The High Handedness Of Security
A year ago, the state shot to death scores of citizens. No one has been held accountable.
State violence has become normalized in Uganda's capital. Exactly a year ago, on Nov. 18, 2020, opposition leader Robert Kyagulanyi Ssentamu, known as "Bobi Wine," was arrested in the country's eastern district of Luuka for violating COVID-19 rules while campaigning for the presidency against incumbent President Yoweri Museveni. In the ensuing unrest, with nationwide protests, police and soldiers killed at least 54 people—many of whom weren't even protesting. Yet no security officers have been prosecuted for their actions, and no compensation has been paid. There are only the quiet tears of victims' families and, if you know where to look, the bullet holes in the walls.
Military police while beating up a Kampala resident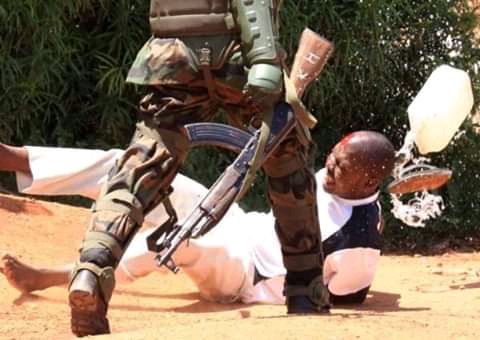 This has all happened before. When Museveni, then a rebel soldier, was sworn in as president 35 years ago, he said "no regime has the right to kill any citizen." But since then, he has regularly crushed urban unrest with brutality. His security forces killed at least 40 people in the "Buganda riots" of 2009, at least nine people in the "walk-to-work" protests of 2011, and at least six people after Wine's first arrest in 2018.
Advertising

Last week, I met Hajara Nakitto, whose 15-year-old son Amos Ssegawa was killed during last year's protests. He was a bright boy, she said, who liked soccer and dancing. His school had been closed due to the pandemic, so he was helping her in the clothes shop where she worked. They closed early to escape the chaos downtown and were walking to a taxi park when an army vehicle sped past. A soldier shot Ssegawa in the head.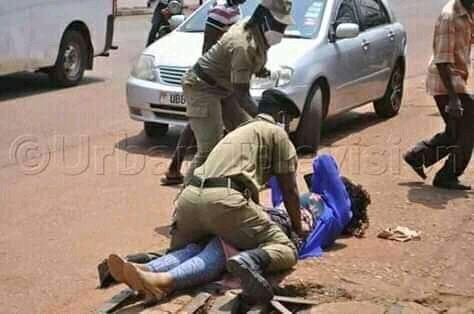 A police man is seen Squeezing a woman onto the ground while another is seen helping his colleague to subdue the victim  security mayhem in Kampala November 18, 2020: Urban Television
The state has done nothing to help Nakitto despite video evidence of what happened. She paid for her son's burial and post-mortem. Every day for a week, she went to police headquarters seeking compensation, sometimes walking seven miles since she could not afford transportation fares. When she finally met a senior officer, he told her to go to court. She did, but the hearing has been postponed twice because the judge was on leave. In April, she even staged a lone protest outside parliament and met with Rebecca Kadaga, then speaker of parliament. Now, when she calls the numbers she was given, no one answers.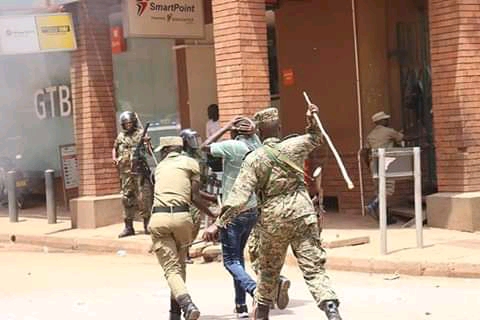 It was a nightmare to Kampala residents on November 18 and 19 2020 when the military clobbered and killed over 54 people
Nakitto was away from the shop so often that she lost her job. She had no money left for rent, so her landlord kicked her out and seized her belongings. "Ever since I lost my child, no one [from the government] has come out to help," she told me in the village where she now stays with relatives. "It has always been me looking for them."