Virgins Are A Rare Species In Uganda
Any Virgin Nubile Stands A Chance Of Winning The Prize
Uganda Today: Dr. Stephen Kaziimba Mugalu while serving as  Church of Uganda Bishop for Mityan diocese, put up a prize to be competed for by any nubile who could ally in marriage while still a virgin.
14 years later only one couple, who in 2010 won this accolade courtesy of blessed Christine who married Christopher Katumba at Makonzi parish in Mityana.
Since then, the Bishop has remained at cross roads without getting another prize winner among the many brides he Weds.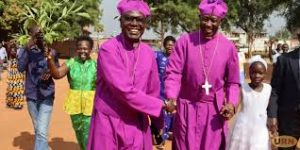 Kaziimba set up  a committee of senior women in the diocese who examined Christine together with her paternal auntie and confirmed that indeed she was a virgin. The couple received their award of UGX 100,000 and other gifts.
Advertising

Traditionally, in Buganda when a girl gets married when she is a virgin, something that would be proved by the paternal auntie who would accompany the bride to her husband, parents of the bride would be awarded by a goat to honour them for keeping their daughter with sanctity.
Bishop Kaziimba wanted to test the waters and see how deep moral decadence had reached in our society and indeed he has lived to prove that  all isn't well.