Uganda -Tanzania CAF Qualifier Match To Be Played In Egypt!
How Does Uganda Government Set Its Priorities, Instead Of Renovating The National Stadium, Government Is Constructing A road In DRC!
We lack a national stadium but we are constructing roads in the DRC, What an interesting country!
By Muhimbise George
It struck my mind recently when I learnt that Uganda is going to host Tanzania National team in the African Cup qualifiers and the game will be played in Egypt!
Precisely Uganda will host Tanzania in Egypt, in other words a head of a family hosting his visitors in  someone else's home! What an embarrassment!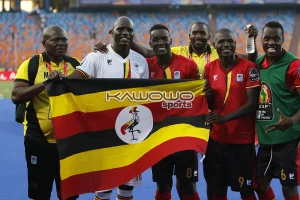 The tragedy is that the Tanzanians and other officials who would have had an opportunity to have a tour of our beautiful country, who would sleep in our hotels, eat our food, use our fuel, and generally feel the beauty of our country, will take all that money to Egypt, 4500 kilometers away! But it also means that the Ugandan team, officials and supporters will have to spend money to travel to Egypt much more than would have been spent if the game was played here- a Double loss!
Advertising

And we still have the guts of singing tourism, "Buy Uganda Build Uganda"! Indeed our country is a comedy itself!
And we are excitedly talking rhetoric of middle income, fundamental change, social economic transformation etc, semantics just!
And we have our army roaming over the continent like hired mercenaries from Somalia to DRC, Central African Republic, South Sudan to mention but a few, moving our heads high that we are giants in the region yet we are more or less a laughing stock!
And we are spending billions constructing roads in Democratic Republic of Congo when we have failed to renovate Nambole National stadium! DRC which has over 12 stadia, two of which have a sitting capacity of 80,000 each, twice that of Namboole capacity, five of of which have a capacity for 20,000 to 40,000 people and five with a capacity of over 10000 people! This is DRC a country we call a failed state, no wonder it's footballers perform well at an international level.
Government can't get a few billions to renovate Namboole National stadium but we got close to 400bn which we gave to Pinneti to construct a non existent "hospital" and am told she wants more money, the other one was finished!
Government gave over 200bn to Atiak sugar factory even without Parliament approval on top of more money and to date I haven't seen even a spoon of sugar from the said factory!
Common Wealth Resort Hotel recently got 80bn in a supplementary budget without Parliament approval even when the hotel was making loses!
Surprisingly when our sportsmen out of hardships emerge victorious in any international games, the head of state is quick to congratulate them, usher them to state house where they get some hand-outs and nothing more!
Did I hear the tweeting General saying the youths problem is sports and entertainment? Even misplaced and naive such an opinion is, can't he then remind his father that Uganda doesn't have a national stadium? If he can't reach the father can't he tell the mother who is the Minister of Education and Sports?
Parliament recently passed a Sports bill, I know it brings some good reforms in the sports sector, thanks to Hon Moses Magogo the lead architect of the law, but does government have the will to promote sports or are our priorities simply upside down?
Muhimbise George, 0787836515 muhimbiseg@gmail.com, Alliance for National Transformation