Pele, The Great's Candle Burns Out
"Death Isn't A Question Of If, It is A Matter Of When", World Mourns The Greatest Footballer Of Our Times 82 Years Pele
Brazilian greatest footballer of the 20th Century Pele, succumbed to the long illness of the colon cancer which was diagnosed during his hey days of a fulfilling football career.
Edson Arantes do Nascimento (Brazilian Portuguese: born 23 October 1940 and died 29 December 2022), known mononymously as Pelé  was a Brazilian professional footballer who played as a forward. Regarded as one of the greatest players of all time and labelled "the greatest" by FIFA, he was among the most successful and popular sports figures of the 20th century. In 1999, he was named Athlete of the Century by the International Olympic Committee and was included in the Time list of the 100 most important people of the 20th century. In 2000, Pelé was voted World Player of the Century by the International Federation of Football History & Statistics (IFFHS) and was one of the two joint winners of the FIFA Player of the Century. His 1,279 goals in 1,363 games, which includes friendlies, is recognised as a Guinness World Record.
Pelé began playing for Santos at age 15 and the Brazil national team at 16. During his international career, he won three FIFA World Cups: 1958, 1962 and 1970, the only player to do so. He was nicknamed O Rei (The King) following the 1958 tournament. Pelé is the joint-top goalscorer for Brazil with 77 goals in 92 games. At the club level, he was Santos' all-time top goalscorer with 643 goals in 659 games.[ In a golden era for Santos, he led the club to the 1962 and 1963 Copa Libertadores, and to the 1962 and 1963 Intercontinental Cup. Credited with connecting the phrase "The Beautiful Game" with football, Pelé's "electrifying play and penchant for spectacular goals" made him a star around the world, and his teams toured internationally to take full advantage of his popularity. During his playing days, Pelé was for a period the best-paid footballer in the world. After retiring in 1977, Pelé was a worldwide ambassador for football and made many acting and commercial ventures. In 2010, he was named the honorary president of the New York Cosmos.
Averaging almost a goal per game throughout his career, Pelé was adept at striking the ball with either foot in addition to anticipating his opponents' movements on the field. While predominantly a striker, he could also drop deep and take on a playmaking role, providing assists with his vision and passing ability, and he would also use his dribbling skills to go past opponents. In Brazil, he was hailed as a national hero for his accomplishments in football and for his outspoken support of policies that improve the social conditions of the poor. His emergence at the 1958 World Cup, where he became the first black global sporting star, was a source of inspiration.Throughout his career and in his retirement, Pelé received numerous individual and team awards for his performance in the field, his record-breaking achievements, and his legacy in the sport.
Christiano Ronaldo Mourns Pele
Cristiano Ronaldo: "My deep condolences to Brazil. A mere "goodbye" to the eternal king will never be enough. The love you showed me was reciprocated in every moment we shared. His memory will live forever in each and every one of us football lovers." RIP King Pelé.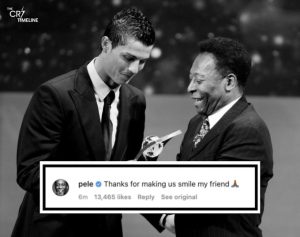 Pele Funeral 'comparable to that of the Queen'
Pele's wake is set to take place on Monday in Santos, according to reports.
Advertising

And the Guardian's Latin American correspondent Tom Phillips reports that the local press are comparing his funeral to the Queen's passing.
He tweeted: "Brazilian media reporting that Pelé's wake will be held on Monday at Vila Belmiro stadium in city of Santos, after Lula's inauguration on Sunday.
"Pelé will be laid to rest at 10am on Tuesday after a procession. Press comparing funeral planning to Queen's 'Operation London Bridge'"
Pelé

Born

Edson Arantes do Nascimento

23 October 1940

Died
29 December 2022 (aged 82)
Occupations
Height
1.73 m (5 ft 8 in)
Spouses

Rosemeri dos Reis Cholbi

​

​

(m. 1966; div. 1982)​

Assíria Lemos Seixas

​

​

(m. 1994; div. 2008)​

Children
7, including Edinho
Parent
Dondinho (father)