Uganda's Speaker Of Parliament Is Vindicative:Bobi Wine
Our COSASE Has Performed Far Better Than That Of Among Five Years Ago
This week, Uganda's Speaker of Parliament Anitah Among came out to castigate parliamentary committees which she deemed to have performed dismally.
The speaker particularly, pointed out the Joel Ssenyonyi led COSASE committee in the most denigrating manner heaping blame on it. In her own words, the Speaker stated "shame on you COSASE". The committee Chairperson Joel Ssenyonyi, has now come out to lay facts on the ground with comparison of his COSASE performance as opposed to the one that was led by the Speaker for three years in the 10th parliament.
FACTS:Joel Ssenyonyi says: According to records in Parliament, COSASE of the last Parliament for a whole 5 years inquired into only 9 (nine) Auditor General reports BOU, KCCA,REA, NITA, NCS, NAADS, UEDCL, UCC and Parliament Commission. By the way Anita Among was in charge of that COSASE for about 3 years.
Meanwhile, our COSASE in just 1 year has so far produced 5 reports CAA, Uganda Railways, Uganda Land Commission, UNRA and Uganda Airlines). This year we're going after more entities.
When you compare only 9 reports in 5 years, to our 5 reports in one year, everyone now knows who is lazy and full of shame!. Ssenyonyi asserted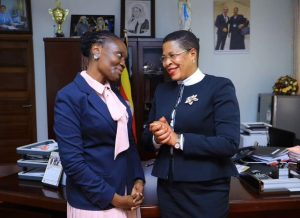 Bobi Wine Says Speaker Is Indicative
This is what the Baganda refer to as, "okufuula ensonyi obusungu" (turning one's embarrassment into anger). Comrade Hon. Joel Ssenyonyi recently called out Madam Anita Among for sitting on the COSASE report of investigations that the Committee conducted into affairs of the loss-making Uganda Airlines. True to her character, the vindictive Among is now witch-hunting Hon. Ssenyonyi for exposing her — the same thing she has done to any MP who has dared to call her to order! The impunity! Kyagulanyi stated.
However, the Speaker's castigation emphasis on Ssenyonyi in other words vindicates him because the same COSASE committee for which the Speaker herself worked for as a deputy Chairperson 5 years ago performed far worse than Ssenyonyi's.
Advertising