NUP's Tolit Is Dead
Tolit's Political Journey Wasn't A Bed Of Roses At All
Hon Simon Tolit was admitted at Lacor hospital-Gulu two days ago and has passed on this afternoon January 16.2023.  Hon Tolit was a former member of FDC who stood against NRM's former Speaker of Parliament late Jacob Oulanyah in 2021 parliamentary elections for Omoro County.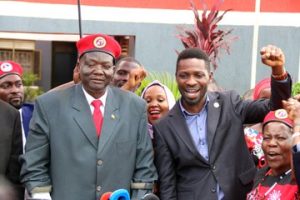 Oulanyah was declared the winner in this election which Tolit contested  claiming that elections were rigged. He was arrested  was tortured by security operatives to the extent that he became lame. After the death of Oulanyah, the by election that ensued, Tolit crossed to NUP and stood against NRM's  Andrew Ojok, the son of Aulanyah. He again lost this election to Ojok. may his soul rest in eternal peace.

In 2019, after failure to pay Electoral Commission damages of UGX 33M  in a case he had filed against the Electoral Commission and Jacob Oulanyah contesting the elections of 2016, Tolit was arrested and incarcerated at Gulu prisons.
Advertising