A Tripartite of FAO, GOU And Chinese Government Commit To Support Agriculture
The Third Phase Triumvirate Programme Shall Be Spurred Through Seven Pillars
FAO, THE GOVERNMENTS OF UGANDA AND CHINA, LAUNCH USD 12.6 MILLION SOUTH-SOUTH COOPERATION PROJECT, PHASE 3 TO SCALE UP AGRICULTURE PRODUCTION AND PRODUCTIVITY
Uganda Today – A tripartite of the Food Agriculture Organization of the United Nations (FAO), the Government of the Republic of Uganda and the Government of the People's Republic of China have launched the third phase of the FAO-China-Uganda South-South Cooperation (SSC) project. It will be implemented through funding worth USD 12.6 million aimed to support the development of the agriculture sector in Uganda. Almost USD 10 million were committed by Uganda and USD 3 million by China, which are held in Trust Funds in FAO. Uganda's contribution is one of the most significant contributions by a Least Developed Country as a beneficiary nation, for a SSC project.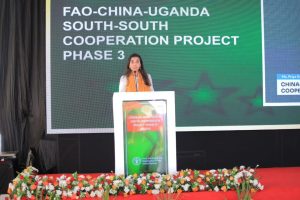 Speaking at the launch and inception workshop of the project at the Kajjansi Aquaculture Research and Development Centre, Vice President of the Republic of Uganda, Her Excellency Jessica Alupo thanked FAO and the Chinese Government for promoting the development and commercialization of the agriculture sector in Uganda.
"The Government of Uganda through the Parish Development Model (PDM) has laid out interventions to transform Uganda into a modern and prosperous Country by 2030", she said. "This aspiration has been pre-determined to be actualized through seven pillars, including Financial Inclusion, Production, Storage, Processing and Marketing as well as Infrastructure and Economic Services. As the implementation of the Project Phase III commences, I wish to propose that implementation alignment be strengthened along the PDM aspirations", she added.
"This is the longest running and most successful national project implemented under the FAO-China South-South Cooperation Programme" said FAO Deputy Director-General Beth Bechdol via video at the launch event. "The key factors contributing to the project's success are the strong political will, ownership and leadership of the government of Uganda. I believe this project has the potential to further catalyze additional private sector financing and investment to ensure large-scale and long-lasting impact on the ground" she added.
Advertising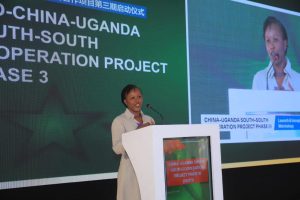 FAO, Uganda and China have been implementing SSC since 2009 to address priority constraints affecting key agricultural sub-sectors — crop, fisheries and livestock and the commodities within those sub-sectors. The previous two phases yielded impressive results, including the quadrupling of rice production per hectare and increased milk production in the project areas. In this new phase, the project will reach over 9 600 beneficiaries across 20 districts, including about 7 000 small-scale crop farmers of mainly rice and oxtail millet, 1 000 livestock farmers and hundreds of fish farmers in eastern, western and northern Uganda. Through the project, inputs, technical assistance, training and knowledge exchange will be provided to help create decent, inclusive jobs and to improve food and nutrition security.
The Project, with special focus on women and youth, will establish four hubs in Butaleja, Kajjansi, Luweero and Mbarara for integrated technology transfer base for livestock, cereals and aquaculture.
"China welcomes more high value-added products from Uganda and will support Uganda in making good use of the latest zero-tariff policy to expand its export to China", said Zhang Lizhong, Ambassador of China to Uganda. "China will provide Africa with new opportunities through Chinese modernization, and support African countries in pursuing development paths suited to their national conditions", he added.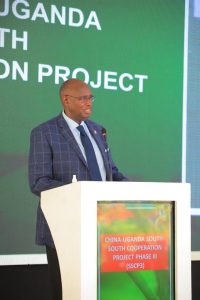 To scale up the achievements from the previous two phases, Phase 3 will centre on four main areas: establishing an integrated technology transfer base; developing high-yielding plans for rice and foxtail millet; supporting livestock improvement programmes; and developing aquaculture value chains.
"I am grateful for the tripartite collaboration between FAO, Uganda and China that has already shown, over the past decade, that South-South Cooperation is indeed an effective modality to harness development opportunities. In this new phase, we will work closely with the private sector to ensure outcomes that encourage value addition, facilitate domestic, regional and international trade and contribute to Uganda's agro-industrialization agenda, leaving no one behind", said Priya Gujadhur, FAO Uganda Deputy Representative.
Impressive results from previous phases  
SSC implementation in Uganda started in 2009 and has so far yielded remarkable results. Rice production increased fourfold, from 2.5 tonnes to 10 tonnes per hectare and milk production rose from 2 to 7 liters per cow per day in some of the project areas. The project increased aquaculture production through low-cost fish-feeding techniques and helped to increase the incomes of rice-fish culture farmers, foxtail millet and mushroom farmers, through better production. China provided financial resources and technical support, such as hands-on trainings and on-site demonstrations that enabled farmers in Uganda to improve the technologies used to produce rice, foxtail millet, maize, grapes, apples and cherry tomatoes as well as for animal reproduction in goats, pigs, sheep and fish. Uganda provided in-kind contributions, including lodging, transportation, medical services and health insurance for the visiting experts, while FAO provided technical support and backstopping, as well as project supervision and monitoring. The previous phases contributed to increasing access to biogas energy, agricultural mechanization and enhancing value-addition. Finally, SSC contributed to the establishment of Uganda-China Agro-industrial Park for better animal and crop production and processing.