25 Years Conserving For Generations
Since 1996 Out Of An Act Of Parliament UWA Was Established
In 1996 after enacting an act of Parliament, Uganda wild Life Authority was established as a government of Uganda agency with the mandate to conserve wild life.
Housed under the ministry of Tourism Wild Life and antiquities, Uganda Wild Life Authority is an autonomous accounting entity that works with several other government agencies, local development partners and foreign international development agencies like UNDP, USAID, EU, WWF and many others.
Guided by the board of directors, headed by the board Chairman and its 8 other members, UWA, with a top management led by the executive director, since its inception, has progressively taken on the role of conservation with tangible results of increased numbers of different wild life species notable among others are buffaloes that take the second place for increasing in numbers countrywide.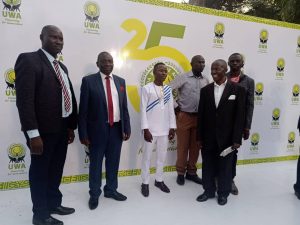 UWA Achievements
Advertising

UWA, prior to the advent of COVID-19 pandemic in 2019, had managed to receive 1.5 million visitors bringing in tourist revenue of $1.6 billion.
UWA, has over the years enhanced UWA- Communities collaboration. Prior to this deliberate effort, there were several clashes between animal sanctuaries and communities neighbouring sanctuaries hence causing a danger to animals.
The road networks into the tourist attractions have been tremendously improved and the security stepped up, contributing to enhancing Uganda's beauty exposure to the world.
Each national park now has a bus a factor that encourages local domestic tourism for which private sector management is sought. Going forward, UWA is deliberately cultivating a pro-community stance, not withstanding its paramilitary character.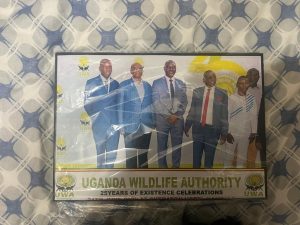 UWA has increased the population of animals, especially elephants, buffalos and Uganda Kobs. Communities have been convinced to abandon poaching and collaborate with animals. Apiary has been introduced on the fence lines in the communities neighbouring game reserves to fend off the animal intrusion into communities.
Before COVID-19 UWA incomes had tremendously increased with gorilla tracking taking the lion's share of 60%. COVID-19 adversely affected UWA revenues. The executive director Mr. Mwandah noted "COVID-19 jeopardised their 5 year strategic plans. Many of these may not be achieved".
UWA currently enhanced staff salary to the tune of 3 billions monthly. Through government and World Bank, UWA will be availed the opportunity of investing in forests and protected areas for climate smart development over a six-year period.
UWA working in conjunction with  UNRA, road networks through national parks will drastically increase so as to attract more tourists.
UWA's revenue sharing programme. Uganda Wildlife Act 2019 section 65(A) enjoins USA executive director to pay 20% of the tourist entrance fees to local governments in protected areas as conditional grants. Largely the funds are used to sensitive communities to orient themselves towards harmonious existence with animals.
UWA, in 2012, was gifted with the establishment tourism community police unit aimed at building tourist confidence and trust.