Ugandan Girl In Saudi Arabia Held Captive, Cries Out To Authorities In Uganda
Phiona Nabawanga 24 Is Held Under Captivity In Saudi Arabia
Phiona Nabawanga 24, from Buikwe, left Uganda in May 2019 through Maphie International, a Ugandan registered company that that deals in labour externalisation to the gulf.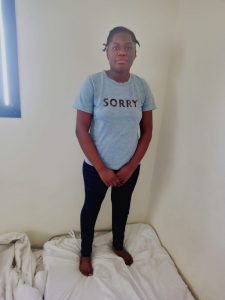 Phiona Nabawanga standing on a 2 inch mattress strewn on the floor which she uses as a bed.
As per February 2022 statistics, over 140,000 Ugandan migrant workers were in Saudi Arabia, making this Middle East country a key destination for different categories namely housemaids, security guards and cleaners.
Endeavours To Rescue Girls
July this year, a delegation from Saudi Arabian Government and Uganda's Ministry of Gender, Labour and Social Development  agreed to set up a joint technical committee to monitor the safety and well-being of Ugandan migrant workers.
On return to Saudi Arabia, Authorities in Saudi Arabia embarked on a task to look out for all Ugandan migrant workers whose contracts ended but were still being held by different Saudi Arabia recruiting agencies.
Key Companies Holding Phiona Captive
Maphie International Kampala Uganda +256 784 378 378/+256 784 502 724 and Almuetamed Recruiting Company  Saudi Arabia owned by Mohammed Abdulaziz on phone No +966505651145 are the ones holding Phiona captive.
Our source couldn't establish whether Mohammed is the recruiting agent to whom Phiona was pegged on reaching Saudi or she was merely picked up on the streets as is the habit of Mohammed to pick up girls who run away from harsh working environment that most often lead to death.  He takes such girls  to his accommodation from where he picks them over at will  and subject them to various domestic chores including sexual molestation.
Phiona was unfortunate that when Mohammed was pressured to surrender girls who were under his custody, Phiona had been picked from the so so called accommodation and had been taken to Mohammed's residence,  so she missed out from the batch that were taken to the deportation centre in Mecca.
Some girls repatriated
Implementing the agreed plan to deport all girls whose contracts had expired and had been kept under captivity by various Saudi labour agencies, authorities in Saudi repatriated 13 girls who reached Entebbe international Airport on Septermber 06, 2022.
These among others included Zahara Akum, Angela Namale, Nabukeera Fausta, Amina Namazzi, Rahumah, Sylvia, Gertrude Gwokyalya and Aisha Magulu among others.
As fate would have it, Phiona Nabawanga missed out on this batch. She  is now crying out to Ugandan authorities to rescue her because she was left alone in a filthy environment where her Arab bosses do to her whatever pleases them.
What happens When A girl Reaches Saudi Employer?
These girls are in real servitude environment where all personal documents relating to particulars of the girls are taken away from them making it impossible for any girl facing abuse to run away for safety. Even if she does run away under very rare circumstances, in some extreme cases, when police picks her up the destination for any such culprit is her boss from where she ran away. This complicates matters for the victim.
Mohammed now takes it upon himself to scavenge for such girls whom he 'sells' to willing buyers or keeps them in custody for his life pleasures. If these girls beat all odds to survive, they find themselves under overstay beyond the mandatory 2 years contract term. Nabawanga is under this category of over stay now.
Entebbe Airport Statistics
As at February 2022 according to documented statistics, Entebbe Airport, 6- 10 Ugandan migrant workers  from Saudi Arabia, are repatriated on a monthly basis.
Majority return with various ailments including but not limited to missing body parts  and mental disorientation. It is a fact that body organs are often harvested from these girls and are offered to sickly Arabs.
Some of the Numerous Deaths From Saudi  Reported over the years.
Judith namulangwa 2019
Rebecca Nakaziba 2021
Zaituni Zawadde 2022
Caroline Kyomuhangi 2022
Milly Namazzi 2022
Advertising