Uganda Government Closes UN Human Rights Office
Claims The Purpose And Mission Of Its Establishment Can Now Be Coordinated By Its Permanent Mission In Geneva
Uganda Government Closes UN Human Rights Office
In a move that has surprised many, Uganda government has terminated the services of the office of the  United Nations High Commissioner for Human Rights (OHCHR) in the country. In a letter from the country's Ministry of Foreign Affairs dated February 03, 2023, to the UN office, the government decided not to renew the operations of the office as per article 68  of the UN charter that requires  the host country to renew the agreement every after 3 years. Since its inception in Uganda in 2006, government renewed this agreement in 2009 and the last time it was renewed was February 09, 2020.
"The ministry wishes to convey government appreciation to the OHCHR country office for its contribution towards the promotion and protection of human rights in Uganda, and enhancement of the capacity of national human rights institutions and civil  society organisations in the country.
In this regard and given the strong government commitment to the promotion and protection of human rights, the prevailing peace throughout the country, coupled with strong National Human Rights institutions and a vibrant civil society- with capacity to monitor the promotion and protection of human rights throughout the country, the ministry wishes to convey the government decision not to renew the mandate of OHCHR country office in Uganda beyond the current term in accordance with article 68 of the host country agreement signed between the government of the Republic of Uganda on February 09, 2020.
The government of Uganda will continue its cooperation with OHCHR either directly or through its permanent mission in Geneva'. The letter to OHCHR read in part.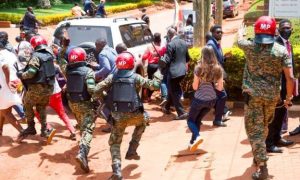 The president of the country's biggest opposition political party National Unity Platform (NUP), Robert Kyagulanyi Ssentamu also known as Bobi Wine who contested with president Museveni in the last most violent elections in the history of the country  2021, has condemned the government action. Kyagulanyi had this to say on his social media Twitter handle.  "In the face of growing international condemnation and isolation, tyrant Museveni has responded by shutting down NGOs, Facebook, DGF (Biggest donor-funded democracy program) & declaring several internationals Persona Non-Grata or deporting them! Now he shuts down
@UNHumanRightsUG
You'll recall in the aftermath of the 2021 election and the hundreds killed or abducted by the Museveni regime, we petitioned the UN Human Rights Office & the military brutalised journalists right there. This UN Office condemned these actions. Not surprising it's being closed!!"