Kyagulanyi Mourns His Lead Lawyer Wameli
After Hospitalisation For Over Two Years In Boston, Lawyer Anthony Wameli Succumbed
Anthony Wameli, the lead counsel for Bobi Wine led opposition National Unity Platform (NUP) has passed on from U.S. after over two years of specialised medication to eliminate cancerous tissues that had roundly manifested in his body.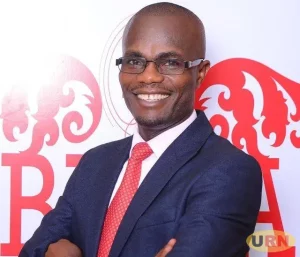 Anthony Wameli, the head of the Legal Department of the National Unity Platform-(NUP) had been diagnosed with stage four cancer. Wameli, who was  battling on and off abdominal complications before his transference to America for proper diagnosis, was diagnosed with colon cancer alias bowel cancer by the doctors at Boston Medical Center in Massachusetts in the United States of America where he has been hospitalized since September 2021.
Stage four colon cancer occurs when cancer spreads to other tissue and organs such as the liver. It may also reach the lungs, the lymph nodes, or the lining of the abdominal cavity.
On September 10 2021, the Uganda Law Society-ULS named Wameli as the criminal defence lawyer of the year. The ULS Annual General Meeting also voted Wameli and Company Advocates, which employs eight Advocates as the law firm of the year.
Wameli, who was a Pastor at Ebenezer Christian Fellowship in Kanyanya rose to the limelight in 2017 when he represented the suspects accused of murdering former Police Spokesperson Andrew Felix Kaweesi, his bodyguard Kenneth Erau and driver, Godfrey Mambewa.
Advertising

He was also the legal representative of Jamilu Mukulu, the alleged head of the rebel Allied Democratic Forces-ADF and former presidential candidates retired Lt. General Henry Tumukunde and Robert Kyagulanyi.
BOBI WINE MOURNS HIS PLEADER
Very sad day! Just learnt of the untimely passing of our dear brother and Head of our Legal Team, comrade Wameli Anthony from the U.S. where he's been admitted for treatment. Details will be provided in due course. May his soul rest in eternal peace.