New 45K Seater State Of The Art Stadium Under Construction At Entebbe
Stadium Will Host AFCON Matches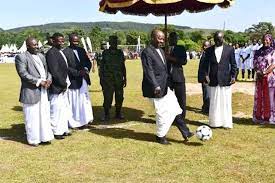 Uganda Today: A Ugandan, Mr. David Kikomeko, based in South Africa, whose name doesn't ring resounding bells in the ears of many sports lovers,  in partnership with others, is behind this mega project.
A 45,000 seater stadium is being constructed at Katebe – Bugabo village, Garuga off Entebbe road in Katabi Town Council, Wakiso District.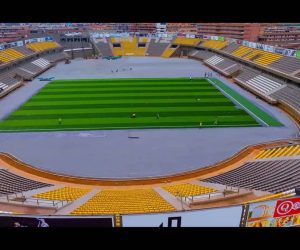 Recently, a delegation from the Confederation of African Football Federation (CAF) Inspection Team embarked on a visit to Uganda to assess the proposed venues for the AFCON 2027 Bid.
Advertising

One of the key venues inspected was the Denver Godwin Stadium, a multi-purpose sports complex currently under construction in Katebe – Bugabo village, Garuga, located off Entebbe road in Katabi Town Council, Wakiso District.
Spread across close to 250 hectares, the construction of Denver Godwin Stadium began in 2019 but faced a temporary halt in March 2020 due to the COVID-19 lockdown, which restricted workers from accessing the site.
However, after the lockdown was lifted, Roko Construction Company Limited resumed work on the project.
The brainchild behind this multi-billion project is said to be David Kikomeko, based in South Africa, with several other silent stakeholders involved.
The complex, scheduled for completion in 2025, will have several facilities, including a football pitch, a running track, four training grounds, tennis courts, volleyball courts, and a netball court. Additionally, an Olympic-sized swimming pool will cater to aquatic sports enthusiasts.
Denver Godwin Stadium is expected to have a seating capacity of 45,000, making it a potential centerpiece for hosting high-profile sporting events.
It is however our humble suggestion that since the current Kabaka of Buganda, has championed the upliftment of football in the country through the most popular tournament the " Masaza Cup" and the equally popular "Bika Bya Baganda" tournament, this new stadium should be named after him " Ronald Mutebi". This, coupled by UNESCO recognised Kasubi tombs that are a must visit for almost all Uganda's destined tourists, shall position the stadium for international tourism destination as well.