Mysteries of Twins From Two African Tribal Cultures
Twins Are Normal Children Just Like All Other Children Born Single
CELEBRATING 56 YEARS OF ROWING THEIR BOATS TO THE SHORE AS TWINS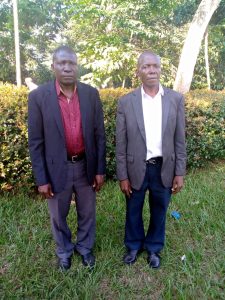 As I, Christopher Muganga Kato, and Godfrey Kibugo Kiganda Wasswa celebrate our 56th birthday day anniversary, I raise up my hands and whole heartedly and unreservedly thank God, the giver of life for this feat.
I have deemed it worthy a cause to once again share this literature I know about the mysteries of twins in two different African cultures from the Baganda in Uganda, and the Ibo in Nigeria with very sharp contrasts as you will discover in the afore going.
In the olden days, the IBO of Nigeria would perform rituals on them and abandon them unharmed in the wilderness for wild animals to devour!
The Baganda (especially), and some other Ugandan tribes would revere them to the verge of worshiping them as demi gods!
Advertising

After the advent of religion that emphasised the doctrine that all children are a blessing from God, the Ibo slowly abandoned the culture of ostracizing twins.
However before, this, one mother stealthily planted two different people very near where rituals were going to be performed on the twins, with mutual understanding that immediately each of them picks one twin so that they grow up in different homes.
The unfounded belief that a curse would befall any home that would dare raise twins never happened, from this secret evidence, mothers continued securing their twins in that way until the teaching demystified the "murder" of innocent souls.
Unlike the Ibo, for the Baganda, it was a rare blessing with so many beliefs attached:
Civilised with their unmatched administrative, cultural and political organisation on the African continent, the Baganda believed that twins were demi gods to the extent that rituals of initiating them, unprecedented vulgarities would be uttered with abandon to signify the uniqueness of twins
At the umbilical cord fall off stage, mothers would keep them until the time of initiation rite of twins where a mother would be required to present the umbilical cords, for the not so careful mothers who would fail to present the cords, a backcloth would be lain in a bush or a garden with outgrown weeds in the morning sun shine when different insects begin to jump out of their night shelters, the first insect to jump onto the backcloth, would be trapped and together with some shrubs that would be woven in an oval shape, would be tied in the backcloth for the first twin to be named after the actual twin Wasswa or Babirye for a male or female twin respectively. Another backcloth would be lain and trap another insect that would be woven in the same way but would be slightly smaller and that would be named after Kato or Nakato for a male or female twin respectively. However, for careful mothers who securely kept the umbilical cord of twins, would be asked to produce them so that they are tied in bark cloth in the same way they do to those tied together with insects. These are adorned with cowrie shells all around.
These would then be wrapped in other backcloths and sacredly kept, occasionally the parents and clans men would get them out and wear them around their necks in the same way Catholics wear rosaries, they would give offertories and ask for blessings from the woven images of twins!
A father and a mother of twins up to day, would take on the title of Salongo and Nalongo respectively to distinguish them from other ordinary parents.
A mother of twins would be at liberty to go and reap food from other peoples gardens without permission on the pretext that she is going to feed twins!
Death would not be announced on twins, but in case of their deaths, they would say, they have ascended!
Unlike the Ibo , for the Baganda twins were supposed to grow up in the same home with same privileges accorded to each.
A child whom the twins follow is renamed Kigongo and the one who follows the twins is named Kizza.
The first male twin is named Wasswa and the second male twin is named Kato, females are named Babirye and Nakato respectively.
In US, a culture of celebrating twins was started and in Uganda five years ago, The New Vision imported it, celebrations of twins is now on the years calendar during the month of August.
There are so many mysteries about twins that are not mentioned here but all were vanity. With that, being a twin, who has, together with Wasswa rowed our boats for the past 56 years, join me to wish Wasswa a happy 56th birthday anniversary.
To the Almighty God we give thanks that we were not conjoined twins as it happens at times. To those I may have stepped on your toes on my fabulous journey of 56, I profusely apologise, to our children and the rest of you, I say, it was on this day 20th May 1965, in the beautiful place of Buganda that our Mother Mega Namala Nalongo (RIP) trekked 1/2 a kilometre journey to usher us into this world.
For any news, comments, information or recommendation you would wish to share, please email ugandatodayedition@gmail.com or send whatsApp message on +256 702 239 337