Kyamate Inferno Death Leaves Questions Unanswered
Concerned Parents Are Calling On The President And The Wife To Reign In The Murderous Student
An enraged citizen penned down this story which we deemed pertinent for our readers discernment. The story carries outrageous suggestions, we hope you will read and sift chaff from the grain.
Bullying In Schools- The Story Behind  Kyamate Senior Secondary School Fire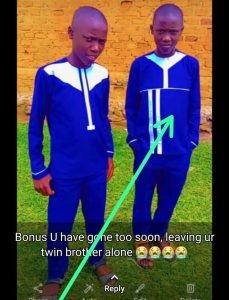 Monday Morning is always stressful by nature but as a parent, nothing prepares you to a social media story of a school Dormitory in flames no matter the day of the week. Sad as it may sound, from that moment, every parent wishes that the children are safe despite destruction of property. It matters not whether they have a child in that school or not.
The Monday 27th February 2023 Social Media pictures of a burning Kyamate Secondary School were simply stressing until it was discovered that a S.1 student, a child had perished in the fire and it became heart wrenching.
Nothing torments your heart as a parent than sending your budding boy to school and stay with a thought of a possibility of even never seeing his body. The Kyamate parent will simply come to pick ashes  days after Christian believers Ash Wednesday and the school may hide these facts for fear of reprisals. KYAMATE Senior Secondary School is undergoing recovery and they recently posted good results in UCE. Such a story is a set back and I will understand if the school tries to ignore negative media attention.
The story – (This is as told and may have inaccuracies)
It is said that a certain student was recently expelled from the school for bullying a S1 boy. A very justifiable punishment for bullying in 2023. On his way out he promised to revenge on the boy in a fundamental way. The Boy reported to the administration and this threat was ignored as far fetched.
Advertising

Sunday 26th February 2023, The Monster came back unnoticed and headed to the dormitory. With the help of some of his friends, he jokingly tied that young boy (now dead) on the bed and in no minute set the bed on fire.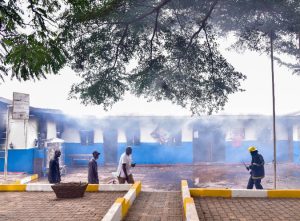 It is said there was no electricity at School and S1s had been excused from attending night Prep. They are the only ones who remained in the dormitories.
In that darkness everyone struggled to save their lives and most, managed to get out unhurt apart from the unfortunate (tied on bed) twin boy. He is dead, his body is in ashes, his blood is on all of us who continue to speak softly about bullying.
There is no ample compensation that a parent can receive for the life of their child and this is understandable. But to know that your child died trying to take a shot at a good life of his own is traumatising. To know that you could have taken him to a better school but you didn't is death itself.
Kyamate is a school where the President studied and he is a key old boy, I hope he picks interest in this story since he is the only one whose directives work in this country.
The school happens to be in Ruhaama county which is the home of the Minister of Education, the minister happens to be the first lady. I pray that tonight as they head to bed, they will be convicted to tackle this monster of bullying in schools. Children are forced into sexual activities mostly homosexuality because of the bullying threats. It is so sad.
I will personally not mind if they wake up tomorrow, head to UBC and ban all Boarding Education facilities if it will save children's lives. I will not mind if they allow every S1 student to hold a gun in self defence but something has to be done. I am not angry, I am simply hurting.
We pray that the police and judiciary don't sit on this case for the findings should lead to major policy changes regarding bullying in schools. The boys life should not be in vain.
May the soul of the deceased rest in Eternal peace may the killer be publicly executed (after conviction) and may their (killer's) journey to hell be a swift one.