Museveni Apologises To Kenya
Is the Apology Enough?
Following the then Lieutenant General Muhoozi Keinerugaba, now General who was army commander Uganda army land forces' unfortunate twitter utterances that carried innuendos that Uganda army would take only "two weeks to overrun Nairobi", the capital of Kenya, a pandora box of hue and cry was opened both in Uganda and Kenya.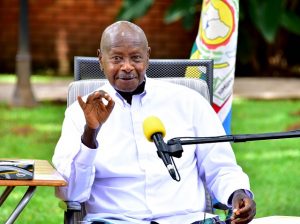 In a preemptive move to diffuse tension, Ugandan president and commander in chief of Ugandan armed forces, came into the fray of the hullabaloo by apologising to the president of Kenya, the people of Kenya and Uganda about the unfortunate undiplomatic utterances of a public officer who doubles as his son.
" Dear Ugandans, the brotherly people of Kenya and all East Africans, i greet all of you i ask our Kenyan brothers and sisters to forgive us for the tweets sent by General Muhoozi" president Museveni emphasized. The president reiterated the brotherly relationships enjoyed by Kenya and Uganda. and also used the opportunity to  congratulate Kenyans upon concluding peaceful elections.
" It is not correct for public officers, civilians or military, to comment or interfere  in any way, in the internal affairs of  brother countries , adding that the only available  legitimate forum is the peer review mechanism of African Union or confidential interactions in the East African  Community (EAC) or African Union forum"
Advertising

"Very sorry ndugu zetu WaKenya. also sorry for Ugandans, who could have been annoyed by one of officers meddling in the affairs of brother Kenya. I know for a fact that General Muhoozi is a passionate Pan Africanist" I have conveyed all those views confidentially to president  president William Ruto.
However the president's apology, in no small measure, came foot on heels with ambivalence,  when days after the repugant tweets, he promoted his errant son from lieutenant general to full general albeit  a sacking from the position of army commander Uganda land forces. The president is also on record for explaing the meaning of his son's name "Muhoozi" In Kinyankore dialect, Muhoozi means "he who avenges on behalf of his father during his absence". Museveni,  while explaining why he named his son stated so.