Justice Esther Kisaakye Sues Chief Justice
5 Others Are Also Respondents
Honourable Justice of the Supreme Court, Lady Justice Esther Kisaakye has petioned the constitutional court of Uganda following the Judicial Services Commission's decision to withhold her salary and suspend her from executing her duties as a Supreme Court Justice of Uganda.
In a 47 page petition plaint drafted by her advocates KBW Advocates based at Clement hill road Kampala, honourable justice Esther Kisaakye, lists the following as respondents:
Honourable Justice Alfonse Chigamoy Owiny-Dollo (the Chief Justice of Uganda)
Dr. Pius Bigirimana (Permanent Secretary to the Judiciary)
Apophia Tumwine (Commissioner Human Resource to the judiciary of Uganda)
Sarah Langa (SIU) the chief Registrar courts of judicature of Uganda
Judicial Services Commission and
Attorney General of Uganda
The Constitutional Court acknowledged registration of the petition signaling the start of a legal process.
Justice Kisaakye contends that the 6 responded arbitrarily denied her the non derogarable right to a fair hearing for any person accused of any mischief.
Advertising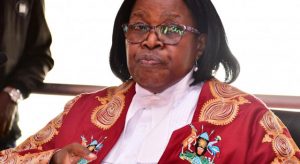 Justice Esther Kisaakye claims she is in the fray of Judiciary witch-hunt.
The International Commission of Jurists issued a strongly worded document warning Uganda's Judiciary to commit Justice Esther Kisaakye to a fair hearing before passing any disciplinary actions against her.
However, political pundits believe that it's an open secret that what bred the current acrimony between Justice Kisaakye and the Judiciary in general, was her unwavering stand she took on March 18, 2021 to read to the press her dissenting judgement in a case the former presidential candidate Robert Kyagulanyi Ssentamu had brought against president Museveni.
During this debacle, the Chief Justice even attempted to confisticate Justice Kisaakye judgement. After recording futility in this strategy, the chie justice ordered the removal of all  equipment which were meant to disseminate information to the press.