Muhoozi Ivory Deal Revealed
Kakwenza Spills Beans Of Muhoozi Ivory Business Deals
Kakwenza Rukirabashaija, is a renowned Ugandan book writer who jumped court bail to find refuge in Munich Germany.
Kakwenza was first arrested in 2019, was released and later rearrested In December 2021  after authoring distasteful dossier about Muhoozi Keinerugaba, a son to Ugandan president.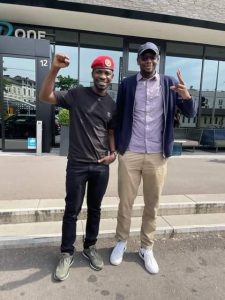 During this period of incarceration, Kakwenza claims to have unearthed a botched gold deal in which Muhoozi was the arch money roller. In his own words, Kakwenza says:
"There's a man who was paid a lot of money by agents of Gen. Muhoozi to poach ivory and supply it to them. So as this man was outsourcing the ivory, agents of Muhoozi became impatient and started threatening him because the deadline had elapsed. So he decided to go to Lufura (Abattoir) and gathered two sacks of long cow horns and stacked them in the rear of his Toyota Corolla. Off he drove to the rendezvous, and arrived at 3:00 am, and found the hoodlums drunk on alcohol and high on weed.
Advertising

Logically impaired by weed and inebriation, Muhoozi's chamchas perfunctorily offloaded the fake ivory and loaded it into their military trucks. They found out the following day that the wise man had supplied them with horns of Bihogo. They had the duty of care to check what was in the sacks but alkoko and njaga over ruled performance of their batshitbrains.
They arrested him and took him to a torture chamber where his bums were bruised but he insisted that he had supplied them with the real ivory. The crooks weren't sure if indeed he was saying the truth. They also didn't trust themselves. They thought that amongst themselves there must have been someone who exchanged ivory with cow horns. But Muhoozi wasn't ready to tolerate such rumpus and brouhaha and needed his ivory or a refund of Ugx400b.
They locked the guy in Makindye Military barracks and began to trace where he had hidden the money. When I was kidnapped from Kitalya Maximum prison after getting bail, and taken to the Military barracks to meet Mr. Biya/Muhoozi, I met the man in the VIP section where he had been taken to clean my VIP suite".