22nd EAC Jua Kali Nguvu Sana Kampala Exhibition Is Set
Exhibitors Are Encouraged To Book Stalls From Their Respective Countries' Representatives. (See Contacts In The Story Below)
The 22nd EAC Micro, Small and Medium Enterprises (MSMEs) Trade Fair set for Kampala, Uganda
The 22nd edition of the annual EAC Jua Kali/Nguvu Kazi Exhibition, which will be held under the theme "Buy East African to Build East Africa for Resilience and Sustainable Development," is expected to attract more than 1,000 artisans from all the seven (7) EAC Partner States.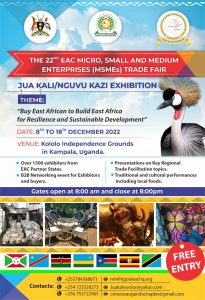 The exhibition will run from 8th – 18th December, 2022 at the Kololo Independence Grounds in Kampala, Uganda.
The main objective of the Trade Fair is to contribute towards the realisation of the region's development goals and aspirations by lending support to this budding sector of the economy, which needs public patronage and Government support in order to be sustainable.
Advertising

The Trade Fairs further create considerable impact on the image of the sector, which is today seen as the panacea to the daunting question of unemployment and poverty alleviation in the region.
The 1st EAC MSMEs Trade Fair was held in Arusha, Tanzania in November 1999 during the historic event of signing of the Treaty for the Establishment of the EAC. Subsequent to the success of the Arusha exhibition, the EAC Heads of State directed that the Exhibition be held annually on rotational basis among the Partner States so as to enhance and revamp the socio-economic integration of the people of East Africa.
Participation
To participate in the Exhibition, exhibitors from the EAC Partner States are required to register with their respective chapters of the Confederation of Micro and Small Enterprises Organisations (CMSEO) as follows:
 The 17th East Africa Jua kali showthat was managed by CMK MEDIA SOLUTIONS LTD, the publishers of Uganda Today and Uganda Leero newspapers in conjunction with the ministry of Trade Industry and Cooperatives in  December 2016, was the last to be held in  Kampala. It was held from 5th to 11th December 2016 at the Kampala Capital City Authority grounds under the theme "Buy East African MSME products to build East Africa".

This year the Ministry for East African Affairs was mandated to take a centre stage in the preparations of the event.The Commissioner from MEACA, Mr. Leo Ojara confirmed that all is moving according to plan. He encouraged Ugandans to turn up in big numbers and partake on the merchandise that will be exhibited from other East African Community members.