Kyagulanyi Relives Trials And Tribulations Of Presidential Petition
Exposes Judicial Services Prank
Former presidential aspirant Robert Kyagulanyi Ssentamu aka Bobi Wine, after a year and some months, has come out to show the general public how rotten and biased the Ugandan judicial system has been driven to.
Over 14 months ago, we filed a complaint against the Chief Justice Mr. Alphonse Owiny-Dollo for the improper conduct and abuse of judicial office that he exhibited while presiding over our 2021 presidential election Petition in the Supreme Court. We raised many concerns against Mr. Owiny-Dollo's conduct that we felt were prejudicial to the good image, honour, dignity and reputation citizens expect of the judicial service. These included: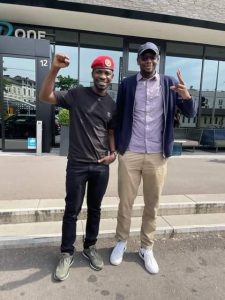 1. The fact that Mr. Owiny-Dollo personally prohibited officials of the Supreme Court Registry from receiving our election Petition when we first attempted to file it on 30th Jan 2021;
2. On 5th February, Mr. Dollo again personally prohibited Court staff from receiving an amendment we attempted to make to the Petition to include a ground that Mr. Yoweri Museveni should never have contested in the 2021 elections. Mr. Dollo's unilateral action effectively ensured that when we eventually filed the amendment, the same Court led by him dismissed it "for having been filed too late".
Advertising

3. On at least 3 different occasions after we'd filed the Petition, Mr. Owiny-Dollo held private meetings with Mr. Museveni and made several financial and material requests whose fulfillment was directly contingent upon the Petition being determined in Mr. Museveni's favour.
4. At 8am on 15th February 2021, our lawyers attempted to file hundreds of affidavits containing additional evidence. Out of fear of upsetting Mr. Owiny-Dollo, Court officials refused to receive the affidavits and went to 'consult' him about it. Many hours later at 6pm, the lawyers received a WhatsApp message from the Court saying the affidavits had been rejected.
5. On 19th February, we filed an application for Court to allow us file the rejected affidavits but that application, too, was dismissed by Mr. Dollo and 5 other Judges of the 7-judge panel that he led. When the only Judge who disagreed with the rest of the judges attempted to read her ruling allowing our application to file more evidence, Mr. Owiny-Dollo confiscated the file containing her ruling!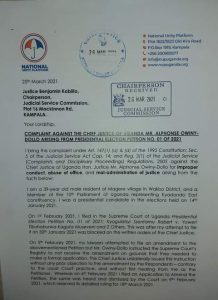 When the Lady Justice insisted on going ahead to deliver her ruling, Mr. Owiny-Dollo had the microphones and air-conditioners in the sweltering-hot courtroom switched off, and other Court staff were withdrawn. This conduct of Mr. Owiny-Dollo created in us the impression that he had all along been using his position to bully and unduly influence the rest of the Judges on the panel to make the Rulings that they did in the Petition; rulings that would ensure Dictator Museveni got away with rigging the elections. We were left with no choice but to withdraw the Petition.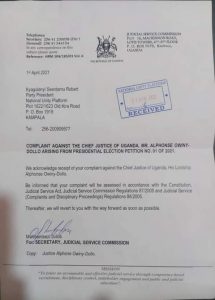 The Judicial Service Commission to which we eventually filed the complaint against Mr. Owiny-Dollo wrote back to us on 1st April 2021 acknowledging and promising to act on it. It appears, however, that their promise was an April Fools Day prank because we have never heard from the Commission again.
Considering the impunity with which our country is ruled, I have no doubt that the Commission's refusal to hear our complaint against Mr. Owiny-Dollo is deliberate. After all, it is evident that all institutions critical to promoting good governance have been hijacked. This is why the Owiny-Dollos of this world behave the way they do. But change is coming!