Fomenters Of Disunity In NUP Are At It Again
Joseph Kibalama Accepted That Government Was Putting Him Against NUP Leadership
Joseph Kibalama who is on record to having transferred the leadership of National Unity Platform political party to Robert Kyagulanyi Ssentamu in 2021, is at it again trying to foment disunity in the party.
Recently he called a press conference where he asserted that he, and his colleague Kagombe, were taking over leadership of the party from Kyagulanyi. Today 21/06/2022, Kibalama unveiled a new building and labeled it the headquarters of NUP.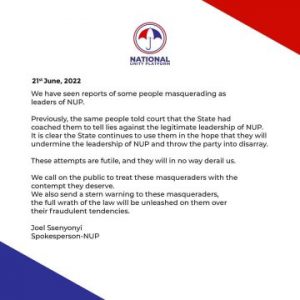 WHAT DOES ELECTORAL COMMISSION SAY.?
Contacted for a comment, the spokes person of the Independent Electoral Commission Paul Bukenya, acknowledged receipt of communication from Kibalama's group to the effect that they want to be issued with a new certificate of National Unity Platform party with a new leadership under Kibalama.
Advertising

"The Electoral Commission has received a letter from one Paul Ssimbwa Kagombe informing the Commission of changes within the leadership of National Unity Platform (NUP) Party.
The Commission will consider the contents of the letter in accordance with the Constitution of the Republic of Uganda, the provisions of the Political Party and Organisations Act, the Constitution of the Party (NUP) and based on our official records about the Party.
We will officially respond to the above letter in due course". Bukenya stressed.
Joel Ssenyonyi, the Spokes person of NUP in a statement issued, termed Kibalama and group "masqueraders"