Electoral Commission Disses Kibalama
Tersely Advises Kibalama To Follow NUP Constitution A Copy Of Which Is In Their Custody
In a bid to thwart mobilisation and growth of the biggest opposition political party NUP, government is steadily bent on fomenting disunity and constant squabbles between the current NUP leadership led by Kyagulanyi and and the erstwhile leadership led by Joseph Kibalama.
Joseph Kibalama confessed to having been coerced by government to take NUP leadership to court. Court pronounced itself on this matter by validating Kyagulanyi as the rightful registered president of NUP.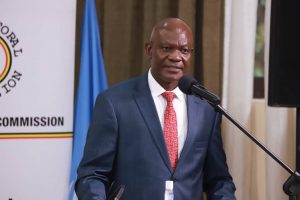 The Independent Electoral Commission Secretary Russell Jaques responded to Kibalama's letter of request to change registered leadership of NUP
To the consternation of NUP members and well wishers, recently, Kibalama and Kagombe purported to have held NUP delegates conference where new leadership was unveiled.
Advertising

On June 21, 2022, a new parallel office was also launched at Kamwokya as the new NUP headquarters where Kibalama called "Kyagulanyi and team" to join.
He went further to ask Ssimbwa Kagombe to write to the Independent Electoral Commission informing them of a new NUP leadership dispensation.
In their response, the Secretary to the Electoral Commission has responded tersely citing NUP constitution in their custody which stipulates how leadership is changed.
The secretary also reminded the duo that they formally resigned from positions of leadership from NUP.
The letter also detailed the registered hierarchical NUP leadership, right from the president, his regional deputies the secretary general  and the rest.