A Must Watch For Ssemujju Ibrahim Nganda, Doctor Besigye, Erias Lukwago, Nyanjura Doreen
This Video In This Story Is A Must Watch For Dr. Besigye, Ssemujju, Erias Lukwago, Nyanjura Doreen And All Discerning Ugandans
Uganda Today: Grapevine is rife with what has been speculation hitherto August 14, 2023 Ibrahim Ssemujju Nganda, the spokes person of the "now on fire" FDC political party revelation that his party "is not a religion" which one can't change so easily.
A must watch video exhibiting oneness and Team Work.
This came toes on heels with allegations attributed to Dr. Besigye that he's already under intensive negotiations with Robert Kyagulanyi Ssentamu to explore ways of cooperation with National Unity Platform (NUP).
Genesis of FDC cracks
President Museveni who has ruled Uganda for 37 years now since 1986 January, when his led ragtag outfit NRA took power after a 5 years guerilla war, while campaigning in 2016 general elections, vowed to use all means to ensure that there's no "political opposition to his government by 2021".
Although his Ultimatum didn't come to pass, his irreversible penetration of FDC using bribery and offering cabinet posts to eminent members of the opposition, picking them more specifically from FDC, has made indelible cracks in the party.
Advertising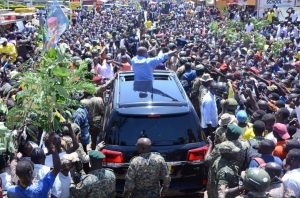 Immediately after  the most murderous campaigns of 2021elections in which the president faced the fiercest rival musician cum politician Robert Kyagulanyi Ssentamu, Museveni seduced FDC's Owek. Joyce Nabbosa Ssebugwaawo and offered her a ministerial post as deputy minister in the ministry of ICT.
However, according to what sparked off the current acrimony and stalemate between Ssemujju, the party Secretary General Nandala Mafabi and the party President Patrick Oboi Amuriat, was the Museveni money that was given to Nandala Mafabi during the heat of the 2021 campaign elections with instructions to obliterate Kyagulanyi's National Unity Platform. President Museveni has severally used this strategy to make opposition parties fight each other.
Ssemujju let the cat out of the bag and later Dr. Besigye gave evidence of the source of the money, thus effectively making the Secretary General become vindicative of Ssemujju Nganda by firing him from the position of the party's parliamentary chief whip. He replaced him by Yusuf Nsibambi.
Besigye, Ssemujju and company right move
Now that Dr. Besigye and Ssemujju have identified irreconcilable differences in their party and are progressively and discerningly seeing the bright and right path to take, it is arguably convenient to state that Team Work and Oneness are the cornerstones to overcome and defeat condescending NRM.