KCCA Avert This Catastrophe
Building On Wilson Road Arua Park May Collapse Anytime
Uganda Today: Avert this building Catastrophe.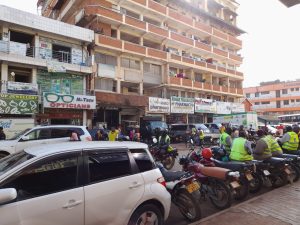 Soon if nothing is done, that brown building will cave in or collapse and kill innocent people along Wilson road in Kampala city near Arua park.
It's owned by some Asian and keeps digging beneath and adding extra floors! He does his perilous action mainly on weekends, at night and during public holidays. The building has developed cracks at the back. To make matters worse, there is water that flows beneath it. Who is to blame if it collapses anytime? This is an extremely busy place next to "Arua Park".
Kampala City Council Authorities should immediately investigate this and take appropriate action.
Advertising

Applying the power of social media, Makerere University lecturer, social media change agent and cartoonist Spire Ssentongo initiated a demonstration campaign that exhibited Kampala potholes. The campaign was so effective that, within no time, authorities concerned started putting their shameful priority setting aside and released some funds to repair the roads in Kampala.