Ugandan Woman Finds Fortune In UAE
Zaake Kibedi Ugandan Ambassador In UAE Launches Phenomenal Agricultural Grocery
In fulfillment of the cardinal responsibility of attracting markets for Uganda's products, His Excellency the Ambassador of Uganda in UAE, Zaake Kibedi officially opened a Ugandan owned agricultural products selling grocery in UAE.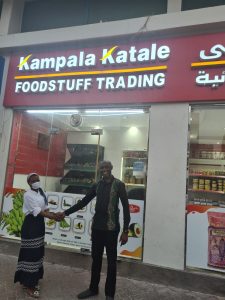 The grocery named Kampala Katale is set to buy quality fruits an other agricultural products from Uganda farmers and sell them to the ready market in UAE
Kampala Katale opens up in Hamdan- Abu- Dhabi ,UAE to sell Ugandan Agricultural products.
The grocery store was started by a Ugandan business person madam Stella Najero and was opened by Uganda's Amb to UAE Hon Zaake Kibedi .
Advertising

Great opportunity for exporters of  Agricultural products.