The Effectiveness Of Social Media In Information Sharing
Peter Sabiiti
Below Peter Sabiiti dwells on the effects of manipulatively telling a deliberate lie in order to achieve selfish goals akin to what Prince Otto Von Bismark did to change a telfax message that catapulted into Germany Prussia war in European history
On a visit to a European family with a friend, we found a little girl and my friend asked her how old she was. She replied she was five. When she asked my friend how old he was, he said he was ten yet he was an adult in his 30s. Straight away, the girl said that was not true. The mother with a stern face asked my friend why he had lied to the girl. He giggled and said he was joking. The mother said never lie to children most especially on such obvious things because the child will take you as a liar and will never trust what you tell him or her, worse still when you are a teacher.
This image below was trending in 2019 on Facebook with a message that a tree in Bwindi forest had developed a human face to the shock of every one, that many people from different parts of Uganda had traveled there and indeed confirmed it. Bwindi lies between Kisoro and Kanungu in western Uganda. I have many relatives living near it, and friends who are running tourist camps in it and around. I called them to inquire about it, not because I was so dumb as to believe that a tree could indeed develop a human face but I though probably it had been some work of a sculptor who had secretly entered the forest and sculptured that face on a tree. Nothing. It was just lies. That news was on only on social media, in central Uganda and in the Diaspora amidst people of some political pressure group.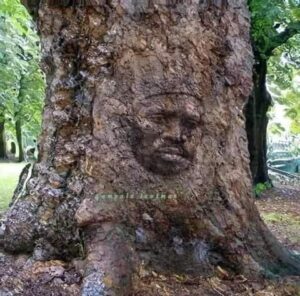 Social media has been a problem to Tibuhaburwa and his junta because of its wide coverage and up-take by the youths who constitute over 70% of our population. As such, he has had to devise means of putting it under his control just as he's done to TV and radio stations as well as print media.
Advertising

One of the ways was to procure data for some youths to post and comment positively about him and NRM. This failed dismally as whenever Tibuhaburwa  or those handling his FaceBook page could post anything, about 80% of the comments would be negative or even insults. The second approach was to vulgarise social media by having people post a lot of rubbish so that people lose trust in it like the ones who produced this image and circulated it. The last one was to shut down FaceBook which he did eight months ago and up to now he's not intending to open it.
Information is power, so they say. If you are seriously in the struggle, desist from posting lies because when people discover, you will lose trust.