Some Of Uganda's Mysterious Deaths
No Clear and Official Report Has Ever Been Made Public About These Numerous High Profile Deaths
Mysterious deaths under Museveni, Obote regimes
Someone dies in a motor accident; another person is hit on the head by a woman; while another is shot dead. Death could visit anyone in Uganda, anywhere, anytime. So why will people not accept it when it happens to some? Part of the explanation is that the deaths are a little too 'convenient' for someone. The other is that the evidence does not add up.
The November 11 murder of Maj. Gen. James Kazini joined a long list of so-called mystery deaths.
We bring you 20 cases from the late former President Milton Obote II and Yoweri Museveni regime.
Advertising

James Kazini (Nov. 10, 2009)
Kazini's murder remained a major news paradox item when the investigation shifted into motives for the murder and whether the confessed killer, Lydia Draru a.k.a. Lydia Atim, acted alone or is part of plot.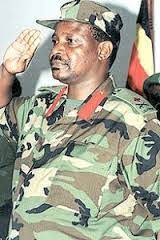 Suspicions were abound, creating the kind controversy that is synonymous with many of the high profile deaths that Uganda has experienced, especially in the governments of the late President Milton Obote and President Yoweri Museveni. Although there is the so-called 'butcher of Kampala', the late president Gen.Idi Amin Dada. However, although many people perished in Amin's regime, most were in open and shut cases of murder or assassination.
In the category of mysterious deaths in the Museveni regime, Gen. Kazini's death followed closely on the heels of the death of another gallant soldier, Brig. Noble Mayombo.
Brig. Noble Mayombo (April 30, 2007):
Listed among the 'most brilliant and eloquent men in uniform' under Museveni's rule, Brig. Mayombo was the permanent secretary in the Ministry of Defense and a close aide to President Yoweri Museveni when he died on April 30, 2007 in a Kenyan hospital. To this day, the press, corridors of power, and the street remain awash in speculation as to what exactly led to his death. Was he sick or was he murdered? There is no dearth of speculation as to the 'culprits' and indeed their motives.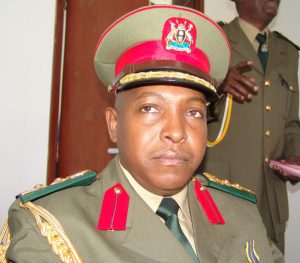 Rumors of poisoning were abounded with none other than President Museveni suggesting at the burial that Mayombo had been at the top of a hit-squad list of an enemy in the region. Indeed the President appointed a committee to probe Mayombo's death. However, the report of the inquest, handed to Museveni in November 2007 '" seven months after the death, has never been made public.  Media got a peek at it and reported  sinipets of it 2008. Apparently, the report's conclusion was that Mayombo died a natural death. Tests on food and necessary body parts reportedly showed no traces of poison. That, however, did not end the speculation.
If members of the security establishment, who were suspected of foul play in the death, were the sole provider of information and test samples in the inquest, the report cannot be trusted. They could have easily predetermined the results of the investigations through the test samples, stories and explanations provided to the investigating team.
Apparently, the investigation team did not do any DNA tests on any of the materials or even body parts to match the conditions and circumstances and the body of the deceased.
Yet before he died, there had been eyebrow raising twists and turns about transporting Mayombo from one place to another for treatment, including an offer of a super medical jet from Israel to take Myombo to Tel Aviv for treatment. Why did an offer from South Africa fall on deaf ears until family members sought to fly Mayombo out for treatment? It was then that the government quickly offered the Presidential Jet of Museveni, three days from the first offer.
Some claim the family was locked out of the decision to take Mayombo to the Aga Khan Hospital in Nairobi. Many are intrigued that, with security all over the place, the dialysis machine on which Mayombo had greatly improved (doctors told his family) also 'collapsed' at night. Other reports said it was actually switched off to be cleaned.
Such questions and more remain unanswered about Mayombo's death. Who were the people at the hospital in Nairobi? Who sent them? Who frustrated the Israeli or South African plane offer meant to evacuate Mayombo? Why did it take so long to offer the presidential jet to save Mayombo's life?
James Wapakhabulo (March 27, 2004)
Wapakhabulo, who was the Second Deputy Prime Minister and Minister of Foreign Affairs at the time, was traveling to Abuja in Nigeria via London. The man, who had HIV, was staying in London for treatment and planning to proceed to Abuja, when his condition got worse.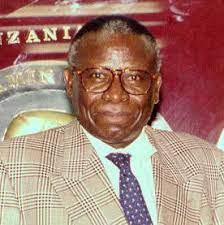 Tomasi Sisye Kiryapawo, who was then head of the Uganda High Commission to the United Kingdom, on realising that Wapa (as he was fondly known) would not make it to the meeting in Abuja, went to the hospital and remove the money for allowance and attempted to give it to Wapa's assistant minister (in-charge of International Affairs) then, Tom Butiime. Kiryapawo reportedly reasoned that Wapa should not keep the money since he was not traveling to Abuja. But Butiime, who was part of the delegation to Abuja, refused to take the money. He reasoned that Wapakhabulo was sick and needed the money. He argued that Wapakhabulo had signed for the money and there was no need of removing it from him. Soon after this incident, Wapakhabulo recovered and returned to Uganda.
But his health continued to deteriorate. However, the government of Uganda could not arrange any special treatment for him, his wife. Instead, his wife Angelina being Tanzanian, lobbied Benjamin Mkapa's government to treat her ailing husband. Wapakhabulo was then treated by the Tanzanian government in Tanzania and soon improved.
The improvement was short-lived however. When his health deteriorated again, he was admitted to Mulago Hospital where he died of breathing complications. Rumours soon circulated about a mysterious doctor who appeared three days before he died and applied some 'treatment' to him. The treatment either helped 'the purpose of the doctor' or neither of them.
It emerged after his death though that Wapakhabulo had written to President Museveni discouraging him from a third term. Wapakhabulo's letter was dated November 19, 2003 and stamped 'RECEIVED' by State House on November 23, 2003 but it was reportedly received and read by the President on April 26, 2004, five months later.
Days before he died, Francis Ayume, then the Attorney General, also smelling his own death told Andrew Mwenda that he finds it interesting the manner in which the President responded to Wapakhabulo's letter.
Joseph Kifefe (November 29, 2007)
Joseph Musasizi Kifefe, brother to the Forum for Democratic Change leader, Kizza Besigye, was arrested on November 22, 2004, by security operatives from the Chieftaincy of Military Intelligence (CMI). He was trailed from Total Petrol Station, Nsambya, a station owned by Besigye, and arrested at Crane Bank where he had gone to bank the day's sales. What began as a simple interrogation as CMI director Mugira said at the time, extended to June 13, 2007, when he was granted bail by the High Court. He was accused of belonging to the shadowy rebel group, the Peoples' Redemption Army, with bases in Congo. It was also alleged that he was being used as a conduit for money to finance the rebel activities.

Musasizi and others were granted bail by High Court Judge Edward Ssempa Lugayizzi on November 16, 2005, only to be rearrested by what from then became known as the Black Mamba squad.
Prior to his release, Musasiizi's charge sheet was amended to include murder charges that led to his transfer from Luzira Prison to Nyamushekyera Prison in Bushenyi. But while in prison he started complaining of stomach complications; this was worsened by the squalid prison conditions in Bushenyi.  At one point he had to be rushed to hospital in serious condition. It was his worsening health condition that compelled court to finally grant him bail. He lived less than six months and he was pronounced dead at Mulago on November 29, 2007, after suffering from what doctors said was leukemia. Relatives said he never had a history of bad health and the circumstances that led to his death were created in prison.
Francis Ayume (May 16, 2004)
The attorney general at the time of his death, on May 16, 2004, Francis Ayume was returning to Kampala from up-country when he met a fatal road accident in Nakasongola.  As was the case in many other deaths, questions that no one could readily answer abounded.
About the accident itself, it emerged that Ayume's official car plus its driver had been withdrawn. The car in which he died and the driver were new. Responding to this controversy in parliament, Trade Minister Janet Mukwaya said the deceased and others in cabinet had surrendered their vehicles for the African Development Bank meeting going on in Kampala and that the organisers had refused to take their vehicles without their drivers. However the car and driver withdrawal only served to stamp the idea of possible foul play.
Just a few days to his demise, Ayume had spoken to Andrew Mwenda, then the political Editor of the Monitor newspaper and expressed fear for his life. This was around the time that the National Resistance Movement (NRM) was positioning itself to lift presidential term limits. Ayume told Mwenda that he was uncomfortable making a recommendation to cabinet against using a referendum to amend article 105(2) of the constitution on term limits contrary to the expressed wish of President Museveni.
'The president has already expressed a very strong position in favour of a referendum,' Ayume told Mwenda, 'He has done this even after my advice to him. It will be difficult for me to again present this advice to cabinet against the president's clearly expressed position.' The president had written a letter on May 12, 2004 saying a referendum was sufficient to amend the controversial article.
Ayume was supposed to make a presentation to cabinet on the morning of Monday May 17, 2004 at 8am. He died about eight hours before the cabinet meeting.
Ayume's position was that article 105(2) could only be amended through parliament, not through a referendum as the President wished and that Wapakabulo's legal opinion was correct. He told Mwenda that he had told the president that it would set a dangerous precedent to amend the constitution using unconstitutional means (the referendum).
At the time, the minister of state for information, Nsaba Buturo, told journalists that he had heard claims of foul play by the government in Ayume's death but they were baseless.
Anthony Wagaba Ssekweyama (2000)
He was a renowned  journalist who had worked as the editor for Democratic Party (DP) mouthpieces: Munnansi and The Citizen.  The media outlets thrived under President Milton Obote II's regime but were eventually banned. He was DP's publicity secretary at the time of his death. He had been imprisoned under Obote's regime 1984, under the Public Safety Act. He died in a car accident in 2000 at Nsangi along Masaka road. His damaged car was found on one side of the road parked and his lifeless body at the other, widespread speculation and allegations of foul play were at the centre stage.
Brig. Smith Opon Acak (July 18, 1999)
When former Uganda National Liberation Army (UNLA) Chief of Staff Brig. Smith Opon Acak was killed, the Uganda Peoples' Congress (UPC) raised doubt over the government's statement that it was in combat. Dr. James Rwanyarare, the party's presidential policy commission chairman told a press conference at Uganda House that Acak was killed 'under very suspicious circumstances'.
Later, on July 28th, the Monitor newspaper reported that the government had not 'yet decided how Acak was killed'.
But on the same day, then Minister of State for Defence Steven Kavuma, speaking on the floor of parliament said: 'I wish to emphasise that the late Brig. Smith Opon Acak was killed while in combat at the CAM Baropok camp. I want to emphasise this because voices have been raised and heard elsewhere alleging that the late Acak had been murdered from some other place and the body carried to the camp '" the late Acak was killed in action in battle at the camp at Baropok.'
One of the accounts claimed that Acak's body had rope marks, suggesting he had been tied Kandoya, a popular torture style at the time. Another report claimed Acak had a bullet hole in the chest but hardly any blood on the shirt, suggesting he had been shot after he was dead.
Yet another said Acak was killed in crossfire when the UPDF intercepted him leading a group of rebels calling itself the 'Citizens Army for Multiparty Politics' (CAMP) near Lira town on July 18. Another report claimed that Acak was killed when UPDF soldiers mounted an operation to net thugs, but instead encountered rebels and killed Acak in the shoot-out.
Lt. Col. Jet Mwebaze (Oct. 1, 1998)
He was a brother to late Maj. Gen. James Kazini.
One account claims he died in a plane crash in the Rwenzori Mountains on his way to Bunia in eastern Congo.  He was allegedly conduct a diamond business deal there.
But another claim is that he survived the plane crash but was executed soon after.
A New Vision story of October 2, 1998 reported that rescue teams had found live four passengers of a small plane that crashed in the Ruwenzori Mountains of western Uganda. Among the survivors was Lt. Col. Jet Mwebaze. But a Monitor newspaper story of the same day said Jet Mwebaze and the pilot had died in the crash.
The rumour mill was fed by conflicting information from different sources regarding the death. Then state minister for defense, Steven Kavuma, announcing that he had not died at all. Even after the death was confirmed, speculation shifted to the cause of the accident.
Defense officials said that the cause of the accident was mechanical problems that the aircraft developed as soon it took off. But information from military circles countered that saying the aircraft was actually shot down and the plot was the handiwork of a senior army officer with whom Jet had had a personal disagreement. It was said at the time that Jet had escaped from the shot plane alive only to be shot at by one of the people who had gone to search for his body. His body was given to the relatives sealed in a coffin and they were allegedly told not to unseal it. His brother, Kazini, was recalled from Congo, where he was commanding Ugandan troops to participate in the burial.
Gerard Kiddu (May 15, 1997)
When Gerard Kiddu, a fast rising rally driver was shot dead by gunmen he was an employee of Karim Hirji's Dembe Enterprises and his close business associate.
During the Judicial Commission of Inquiry into the police force headed by Justice Julie Sebutinde, police officers revealed how up to between US$ 10,000 and US$ 9,500 that Kiddu got from Transami between May 7 and 15 was not delivered to his employers, Ddembe Enterprises.
The police said Kiddu had developed misunderstanding with his business partners that could have contributed to his death.
Another theory claims Kiddu had just returned from DR Congo to collect US$ 18,000 belonging to his boss Karim Hirji from Congolese businessmen.
Upon return, Kiddu went to Hotel Equatoria where he spent the evening. While there, he interacted with a woman called Harriet Kasiimire. At around 11pm Kiddu decided to take his companion to Karim's private house in Ntinda. By the time they reached, the housekeeper had already slept. Kiddu hooted at the gate and the housekeeper refused to open. The two decided to go to Kansiime's one'"roomed house in Kansanga, a few meters off Ggaba Road.
Before reaching Kasiimire's house, they sojourned at Al's Bar in Kansanga.
Kiddu ordered for drinks. Soon he ran out of local currency, but he still had his boss's dollars, which he had not handed over. He started pulling out a whole bundle to pick out a dollar note to pay for drinks. This was past midnight. When they had had their fill of drinking, the two retired to Kasiimire's house a short distance away. It's believed that it was at this time that the assailants trailed them. No sooner had they entered Kasiimire's house than the killers struck. They ordered that the door be opened. When their orders were not heeded, they tried to force the door open. Kiddu held the door to block their entry. They shot him through the door and he fell on the floor. He died instantly. They broke the door. Kansiime fled and the assailants fired at her but missed their target.
Kiddu's car was found parked in front of Kasiimire's house. The one-room (Mzigo) house was full of blood. The bed and sitting space were separated by a curtain. Kiddu was living in a mansion in Makindye.
Kasiimire was later arrested on suspicion that she had colluded with the killers and remanded in Luzira prison for a year. But due to lack of evidence, she was acquitted. Up to now the public has never known Kaddu's real killers. Conspiracy theories implicating several people keep circulating, but without useful evidence.
The Sebutinde commission recommended, and the police, under then Inspector General of Police Lt. Gen. Katumba Wamala agreed, that the investigations should be done by an independent team.  One suggestion made was Scotland Yard. To date, nothing has been done.
Paulo Muwanga (April 2, 1991)
He was a former vice president and minister of defense under the Obote government. He died on April 2, 1991 at the age of 70, at Nsambya Hospital.
At the time of his death, Muwanga had just been released from Luzira Prison, where he had spent four years over allegations that he kidnapped four people with intent to murder them. The charges were later reduced kidnapping.  Efforts by Muwanga to seek bail on August 15, 1988, were thwarted by then Director of Public Prosecutions Mac Dusman Kabega who argued that he needed time to study the criminal investigations file. However, surprisingly on October 25, 1990, Kabega turned up in court and said the state had lost interest in the charges against Muwanga and he was therefore was free to enjoy his life like any other citizen.
Within less than six months Muwanga's health worsened and was rushed to hospital where died. Rumours spread quickly that prior to his release, Muwanga had been injected with slow killing poison that was imported from Cuba and Romania. Fearing the embarrassment of Muwanga dying in custody, it's said the state had to forge a reason for his release to stay with clean hands.
Muwanga was once the chairman of the Military Commission that led the country between May and December 1980. After the elections of December 1980, he declared himself the chairman of Electoral Commission and declared Obote the winner of the contested elections.
Andrew Kayiira (March 7, 1987)
He was the energy minister after the capture of Kampala but he soon fell out with government and was accused of taking part in subversive activities against it. Kayiira was a former chairman of Uganda Freedom Movement and his forces had joined with NRA to take over Kampala.
He battled treason cases before his death on March 7, 1987, but the court had acquitted him on all the charges. On his release from Luzira prison, Museveni is alleged to have told journalists in Kampala: 'Kayiira may have been released by the courts. We in the NRA believe he was attempting to overthrow the government. And we will follow him.'  When he left prison, Kayiira moved into a small apartment from where he relocated to stay with a friend, then BBC correspondent Sam Gombya. It was at this friend's place in Konge, Makindye that gunmen killed him. The comments from a police dog handler indicated at the time that when police sniffer dogs followed a scent from the scene, it led to Lubiri barracks from where a lady's hand bag belonging to Gombya's wife was found.
Not satisfied that the killers were from Lubiri, President Museveni requested specialised crime investigators from Scotland Yard in Britain to carry out investigations. They gave their report to the president and the then minister of internal affairs, Paul Kawanga Ssemwogerere. The Scotland Yard report has never been made public 22 years later.
Lt Ahmed Sseguya (1981)
He was the first commander of FRONASA that later transformed itself into the National Resistance Army. He had led military trainees at Nachingweya in Tanzania. He was killed at the beginning of the armed struggle not by the enemy but by junior officers in his group.  It is alleged that orders for his execution were given by the senior officers.
Samuel Magara (1982)
He was killed at Mengo in 1982 at the home of Katenta Apuuli, whose house was used as a coordinating point for National Resistance Army (NRA) fighters. At the time of his death Magara was the overall rebel commander of NRA succeeding Ahmed Sseguya who had been killed mysterious circumstances. Magara was one of the highly educated rebels. He had a law degree from Dar es Salaam University and a master's from Nairobi University. He had been part of the first President Museveni rebel outfit called FRONAS, joining the group in 1079.
The official version is that on the fateful day, Magara and two others were besieged by government forces as Magara was preparing to go for dental treatment. It is said that an informant had learnt of Magara's presence at Apuuli's home and alerted the police and the military. On realising that the home was under attack, Magara tried to climb over the chain fence around the house to escape but was shot in the head and died on the spot.
Other claims are that Magara was betrayed into the enemy trap by some NRA fighters who wanted to eliminate him as threat to the rebel leadership.
Brig. Pierino Yere Okoya (July 25, 1970)
On January 25, 1970, a prominent soldier from the Acholi region was mysteriously murdered coming out of his home in Gulu. Brig. Pierino Okoya, who was then commander of the Uganda Army Second Infantry, had visited his ancestral village of Koro near Gulu Military Airbase when he was shot dead together with his wife, Anna.
Okoya, who was based at the Western Brigade Headquarters in Masaka, had gone back home to mourn the death of one of his relatives. Investigations into his death were not conclusive for (also) unclear reasons. However one of the suspects arrested for the murder, one Capt. Guweddeko was released immediately after Amin took over power in a coup against Obote exactly a year later '" 25 January 1971.
Four main suspects were arrested: Capt. Frederick Smutts Guweddeko, an airforce officer; Patrick Mukwaya and Siperito Kapalaga, both businessmen and Fred Kyamufumba, a flight technician. Two other men, Kalule L. Lutalo and Sebastiano Lukanga, were accused of paying for the murder. Their girlfriends, Milly Nantege and Mary Kajjansi, were tortured to obtain confessions.
But in a never seen before and after event, Idi Amin who was president of Uganda at the time, on May 15, 1971 appeared before a panel investigating the murder of Okoya.
Amin told Justice Richard Dickson that he had never hired Guweddeko to assassinate Okoya. Justice Dickson on 16 June, 1971 published an 86-page report that said Okoya's killers remain unknown.
Okoya had publicly accused Amin, who was then army commander, of fleeing from the scene when an attempt was made on the life of the President Milton Obote on October 19, 1969 at Lugogo in Kampala. Many say Amin had a motive to eliminate Okoya.
But some reports of the death cite a book published in 1976 to explain the Israeli side to the 1976 hostage crisis at Entebbe by the deputy editor of the Israeli airforce magazine, Y. Ofer. The book, 'Operation Thunder: The Entebbe Raid: The Israeli's Own Story', states on page 60:
'One day when a Ugandan brigadier-general named Okea (Okoya -Editor), a member of the Acholi tribe, had been murdered, President Obote planned to exploit the assassination to oust Amin, and he started the rumour that the Chief of Staff had been involved in it. Idi Amin was then in Cairo…[The Uganda minister of defence, Felix Onama]…investigated the matter and learned that Obote was planning to detain Amin on his return to Uganda on the trumped-up charge of having assassinated the brigadier-general.'
Other reports claim that Amin, through Capt. Smutts Guwedeko and the latter's brother, Christopher Luutu, organised to kill Okoya, who had accused Amin. The man who pulled the trigger was named only as Patrick, a Musoga from Magamaga in Busoga. Some of his cohorts included a man known as Kapalaga and another nicknamed 'teenager' because of his boyish looks.
Daudi Ochieng (June 1, 1966)
In March 1965 a motion was tabled to parliament concerning the security situation in Buganda, the main objective of which was to ban the Buganda kingdom-allied political party, Kabaka Yekka (KY) by branding it a party of criminals. An amendment to it was sought to add corruption in the civil service and armed forces, which a member of the Democratic Party ( DP), Gaspari Oda said was a factor in the insecurity not only in Buganda but throughout the country. The motion was defeated but not before Daudi Ochieng (KY) and Alexander Latim (DP) had introduced a lot of information in support of the amendment.
Advancing the argument of widespread corruption, Ochieng informed Parliament that Idi Amin, who was then Deputy Commander of the Uganda Army, had visited West Nile several times and had been seen bringing back parcels to his home in Entebbe which he guarded with utmost security. Through a mistake by the post office, whereby Amin's bank statement was put into the wrong box, the following information about his deposits became available: he had deposited US$1,500 on February, 5 1965; US$9,000 on Feb. 15; US$3,000 on Feb.17;  US$28,250 on Feb.26 and US$3,250 on March 2. As Amin had no known private means of income, Ochieng wanted Felix Onama, the Minister of Defence, to initiate an investigation into this sudden windfall. This was the beginning of high tensions between Obote's UPC and Mengo with its lead legislator Daudi Ochieng.
Amin threatened to kill Ochieng and Co. although later apologised claiming that he had been upset by the allegations about his bank account.
On Feb. 4, 1966 Ochieng pounced again with a motion seeking to suspend Amin pending investigations into his account. He alleged that some members of the government, together with then Col.  Amin, were planning a coup to overthrow the constitution. It was in this debate, spearheaded by Ochieng, that it got revealed that Milton Obote, Felix Onama and Adoko Nekyon, minister of planning and community development, had received large amounts of money from gold and elephant tusks from Congo after Uganda Army's incursions into that country.
Premier Obote, while addressing parliament, called on Ochieng to make a statement to the police by February 19, which he did. Three days later on February 22, Amin's co-accused, Prime Minister Milton Obote, staged a coup d'etat against his own government and usurped all powers as an executive president, reducing the then president, Kabaka Fredrick Mutesa II to an ordinary citizen and abolished the constitution, replacing it with a republican one '" 'the pigeon-hole constitution.'  It was in that intimidating atmosphere that now President Obote set up a commission of inquiry into the Congo gold scandal.
Four months later Ochieng returned from an overseas trip to testify before the commission. Curiously, he fell ill with 'stomach pains' and was admitted to the government hospital at Mulago where he died on June 1, 1966