Hajji Bulayimu Muwanga Kibirige Passes On
Bulaimu Muwanga Kibirige, commonly known as BMK, was a Ugandan businessman, entrepreneur, and hotel proprietor. According to a 2012 published report, he was one of the wealthiest people in Uganda. He breathed his last short of 22 days to clock his 68th year.
He was the Chairman and founder of BMK business conglomerates that include BMK Construction, MBK house, BMK Machinery, Hotel Africana Kampala, Hotel Africana Karamoja, Hotel Africana Arua and an avalanche of other businesses spread in Uganda, Kenya, Tanzania Rwanda and Zambia.
Bulayimu Muwanga Kibirige (BMK)
Born
2 October 1953 (age 67 & 343 days)
Uganda
Died
Nairobi Hospital
Nationality
Ugandan
Citizenship
Uganda
Occupation
Businessman and
Author's Tribute To BMK
I came to know BMK in the 90's as his business conglomerates advertising Accounts Manager for Vision Group,dealing with Hajji Haruna Kibirige (young brother), Hajjat Hadijah Kibirige (sister) and his wife who was managing his plastics company. He was such a down to earth jovial person, a non discriminating gentleman, a person who employed all his relatives, a man who would offer tuition for his in-laws to pursue their Catholic theological studies while residing at his residence, yet he was professed Islamic believer.
Advertising

He was a man who was endeared to many. The author having been close to him, in 2006 I approached him asking for an offer of Hotel Africana as a venue for my wedding, he asked me to go to his marketing people for a quote, he offered me half of the quote. It is just unfortunate that because of one reason or the other, the wedding never happened.
In 2018, I approached him dangling an idea inviting him to indulge into media business industry by investing in Uganda Today newspaper.
He, in his characteristic jovial style declined the proposal rightly pointing out that he was preparing to write a book instead. i admired his intuition, a very quick person to make appropriate business decisions. It's gratifying that by the time of his passing, he had actualised his dream, his book was a sell out.
His wisdom was unmatched. He bought land and offered to bury all Muslims who lacked proper burial grounds. Indeed his son and mother had been buried at the same place. He also willed to be buried at the same grounds.
BMK's Association with Uganda American Sickle Cell Rescue Fund
BMK's Magnanimity was such a rare virtue to be found with humanity. Ugandan Major Luckia Mulumba serving the US army having got a sickle cell's affected child who by God's grace had a bone marrow transplant that made her get rid of the dreaded disease, decided to start an NGO that would cater for needs of sickle cell suffering children in Uganda. She approached MBK who did not only embrace the idea, but in no small measure of support and anchoring the young organisation with offer of office premises, contacted his business associates like Roofings Lalan and others join him in propping Uganda Sickle Rescue Fund.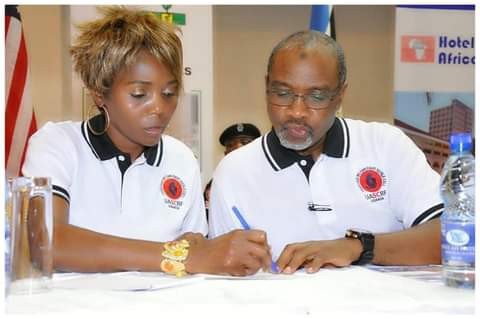 BMK's active involvement in helping the vulnerable sickle cell suffering children, used his society clout to link up with His Majesty the Kabaka of Buganda to grace his support idea for Uganda American Sickle Cell Rescue Fund. Indeed the publicity of Kabaka's run and monetary proceeds for 3 consecutive years was channeled to the cause of sickle cell in Uganda. Since then, sickle cell disease awareness got unprecedented promotion to households.
BMK is arguably the most prolific business man Uganda has had in our contemporary History.
May Dr. Bulayimu Muwanga Kibirige's (BMK) soul rest in eternal peace.