Otafiire Is Not Yet Done, Decries Muhoozi's Impunity
Major General Kahinda Otafiire who holds the portfolio of Uganda's Minister of Internal Affairs, once stated that Ugandans should "leave the issues of generals to the generals".
This was as a result of the acrimony that had cropped up between generals Kayihura and Sejusa. The same general is all out to let all and sundry know what a Muganda would term as "okubojja ku luwonzi" on the matter pertaining to the current Impunity being systematically orchestrated by general Muhoozi who is a son to president Museveni.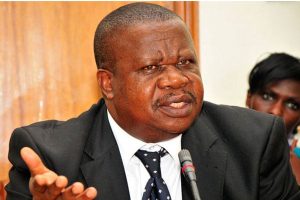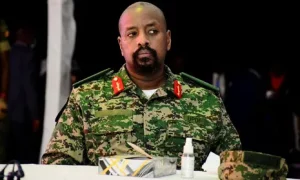 Major General Kahinda Otafiire and Gen. Muhoozi Keinerugaba
In all these sagas, president Museveni seems to have turned a deaf ear on what is happening. General Muhoozi has more often than not, flouted the UPDF code of conduct with impunity which the Commander in Chief seems to condone. It should be remembered that when serving army officers retired Colonel Kizza Besigye and later general Sejusa acted and flouted the army code of conduct, the Commander in Chief of the UPDF reigned in on them, they were arrested and arraigned in the court martial to answer for their crimes. The big question of the day is why is general Museveni silent when his son is a culprit? Is it the reason why general Otafiire is taking him on, on the sidelines?
Advertising

"We know you're Museveni's son but we shall not allow you to disrespect us'! Gen Otafiire warns Gen Muhoozi
Major General Kahinda Otafiire has warned  Gen Muhoozi Kainerugaba to stop disrespecting the NRA/NRM historicals who fought tooth and nail to ensure that the East African country is liberated.
Speaking during a news interview on CBS FM on Thursday morning, Gen Otafiire said Gen Muhoozi has almost disrespected all institutions of government, especially the army, thinking that he is untouchable because he is the First Son.
He said that Gen Muhoozi's actions of undermining the institutions such as the army are tarnishing the image of his father and those who have spent their entire lives working hard to see a peaceful Uganda with law-abiding citizens.
"I have no problem with him, first of all he is still in the army and what he is doing is against the law. As a serving army officer, he is not allowed to say such things. Sincerely someone who is not law abiding, how could follow him? What example is he giving other officers?" the Minister wondered.
Gen Otafiire further noted that he does not hold any grudge against the former Commander of UPDF Land Forces but he is speaking as one of the few people against the First Son's impunity and misuse of State institutions such as the army.
"Me I speak as a member of NRM, I speak for my party, we fought hard to bring this democracy, so we shall not let it die as we look on! If one wants to challenge our candidate or join politics resign from the army and then come and contest. What Gen Muhoozi is doing in breaking what his father has been building the last 36 years," he said.
The verbal battle between the two generals started a few weeks ago when Gen Otafiire warned people to stop fronting Gen Muhoozi as their next presidential candidate and cautioned them that Gen Museveni is still very strong and has the capability to rule Uganda for more years.
"I hear you people saying you have a standby Generator, who told you that electricity is going. Gen Museveni is still around so leave those things of a standby generator," he said at one of the gatherings in Western Uganda .
However, Gen Otafiire's words rubbed Gen Muhoozi and his supporters a wrong way. They went on social media and started attacking him left,  right and centre.
"Calls us 'mad' people because we dare to ask the questions that even children understand. Let us teach Otafiire and his group that their time is ABSOLUTELY OVER!," Muhoozi said in a tweet.
However, Gen Otafiire is not the first senior army officer to caution Gen Muhoozi against his involvement in politics when he is still a serving officer. Last year, Gen (Rtd) Mugisha Muntu, the leader of the Alliance for National Transformation also came out and warned him not to disrespect the army as an institution.
Col (Rtd) Dr Kizza Besigye also came out and warned that the route Gen Muhoozi was taking will lead Uganda to a political turmoil that was in place before NRM government came to power in 1986