In A Surprise Move, Museveni Shifts From Ebola To COVID-19
President Shifts Goal Posts
Last night Ugandan president was live on national television delivering his speech expectedly on the current situation pertaining to Ebola.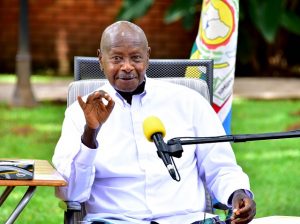 To the consternation of citizens, the president skirted about the issue of Ebola which he was expected to address following the ministry of health report to the effect that, currently, there's isn't a single Ebola patient in the two districts of Mubende and Kasanda that were the cradle of the outbreak.
According to the ministry of health, all Ebola patients were treated and discharged to go back home.
Now there's a hue and cry among the leaders in the two districts who expected the president to lift the lockdown affecting citizen livelihoods for over two months now, since September.
Advertising

President last evening in his address on health matters made surprising new directions regarding the almost forgotten Covid-19 that silenced the world and brought it to knees in the year 2020 and 2021.
According to the ministry of Health, Uganda has been battling the Ebola Virus disease and the good news is that most of the patients if not all have been discharged projecting a sigh of relief and hope to people of Mubende and Kasanda districts which have been under lockdown for the past six weeks.
However, the president has directed and ordered that no one will be allowed in any public meeting without proof of vaccination of Covid-19, in this the president meant two jabs and another booster shot.
"A certificate of Covid-19 vaccination is a requirement for entrance into any public meeting (two doses and a booster dose)- said president Museveni
President Museveni further in his televised address re-awakened and re-emphasized wearing of masks for people in enclosed places and public gatherings. He also further directs that shaking of hands and hugging also remains prohibited because of Covid-19 and Ebola.
"Shaking hands and hugging remain prohibited. Hand shaking is totally prohibited because of corona and ebola and all those things" President Museveni
Where there is no up to date vaccination certificate a negative PCR test within 24 hours is required. If you are not fully vaccinated then you must show you have been tested for Corona 24 hours before or less- President @KagutaMuseveni @ugtodaynews