Is Former Minister Sam Kutesa Critically Ill?
He served Under Museveni Government In Different Portfolios Until His Retirement in 2016
If we are to go by the information making rounds on social media, the former long serving minister in president Tibuhaburwa Museveni government and father in-law of General Museveni's son (Muhoozi Keinerugaba), Sam Kahamba Kutesa was secretly flown to Germany for specialised ailment of a yet to be diagnosed disease.
Who is Sam Kutesa?
Sam Kahamba Kutesa (born 1 February 1949) is a Ugandan politician, businessman and lawyerinvolved in several corruption cases. By the marriage of his daughter Charlotte Kutesa Muhoozi with Muhoozi he is part of the inner circle of president Museveni. Kutesa was the Minister of Foreign Affairs in the Cabinet of Uganda, a position he held from 13 January 2005 and maintained through three cabinet reshuffles until May 2021. He was also the elected Member of Parliament (MP) for Mawogola County in Sembabule District.He was the President of the United Nations General Assembly during its 69th session in 2014–2015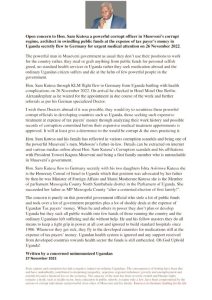 Advertising

Kutesa in 1980, on a DP ticket defeated Museveni hands down in an election that triggered Museveni to go to the bush to wage a protracted 5 year guerilla war on allegations that the elections that had been won by late Paul Kawanga Ssemogerere were rigged in favour of Milton Obote.
It is an irony now that ever since 1996, Mr. Museveni has been declared the winner on all the 6 consecutive elections filled with unprecedented hue and cry about election rigging.