Ono Ayagala Kooti Emukirize Asale Ku Myaaka Gye
Agamba Nti Nga Abantu Bwebakirizibwa Okukyuusa Amannya, N'emyaaka Asaba Kibe Bwekityo
Ono omuzungu Omudaaki akaaye nga kamulali, bwasazeewo okugenda mu kooti agisabe emukirize okusala ku myaaka gye.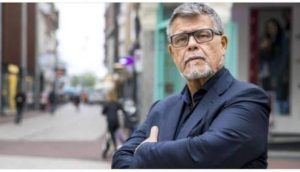 Omusajja ono akola omulimu gwokubudabuda abantu okusobola okutunulira ebintu by'ensi eno mungeri y'obuwanguzi, era nga kati aweza egy'obukulu 69, yasabye Kooti emmuwe ebbettu okkola kino.
Agamba nti kino kijja kwongera kumikisa gye egyokuganzibwa abakyala era n'okufuna abantu abangi banakolangamu emirimu gye.
Advertising

Emile Retelband annyonnyola "Tuli mubiseera mu nsi nga omuntu asobola okukyuusa erinnya n'ekikkula kye, lwaaki ate sisobola kukyuusa myaaka gyange?" Omusajja ono ajjudde embazulu bweyebuuzizza.
Retelband agamba nti ayita mu kusosolebwa olw'emyaaka gye era nti kino kimulemesa okufuna emirimu gy'akola.
Ku myaaka 69, Ninna ekkomo kumpi ku buli kintu kyennandyagadde okwekolera. Naye bwemba ow'emyaaka 49, nsobola okugula enyumba oba motoka endala kukibanja mpola, n'okufuna emirimu miingi egyokukola, ekintu ekitasoboka ku w'emyaaka 69.
Dutch positivity trainer Emile Retelband aged 69 has petitioned court so as to boost his dating and employability prospects.
"We live in a time where you can change your name and change your gender. Why can't I decide my own age?" He said.
Retelband argues that he feels discriminated against because of his age and that his actual age has also lowered his employability.
"At 69, I am limited but if am 49, then I can buy a house, drive a different car under hire purchase, I can then take up more work" he told BBC.