NUP's Nambassa Takes Makerere University Guild Presidency
"Never Say Die" Nambassa Declared Winner
As police, resident district commissioners in Mbale and Lira were busy harassing the National Unity Platform President Robert Kyagulanyi, preventing him from talking on two area based FM radios and ordering police to spray tear gas onto his supporters, students at the biggest university Makerere, were busy stamping dominance of NUP in university politics by voting NUP's flamboyant Nambassa their guild president. Nambassa in her victory speech carrying her catch word of "vaccinate" junta wee wee, had this to say.
"We may allow ourselves a brief period of rejoicing, but let us not forget for a moment the toils and efforts that lie ahead.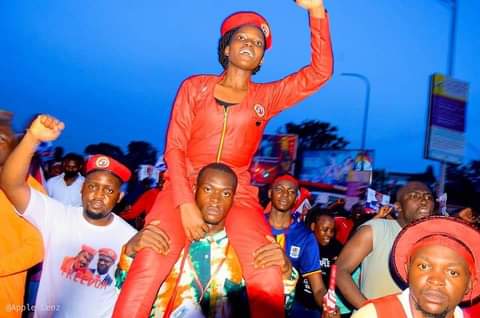 It has been a tough one, monetized by our own taxes and threatened by our own guns.
But like I said, it's not over. This victory ushers us into the next battle field. We shall vaccinate the junta, we shall fight on and on, but the ultimate victory is the sound of victory music on the streets of Kampala and our major cities. Before we attain that victory, gallant Makerereans, the battle field is our bed because we must build for the future.
Thank you so much for the trust, thank you for the gearing up. Thank you for holding my hand and having my back.
But above all, thank you for residing in the umbrella of unity.
We have fought a good fight, but the actual battle is yet to come. Gear up you guardians of the Ivory Tower, for we must lead the country to freedom.
Shamim Nambassa, the 3rd year pharmacy student becomes the 5th Makerere University female Guild president.
#PeoplePowerOurPower"
Advertising

NUP president also took time to thank Nambassa for the resounding victory she has delivered to her party.