Daughter Of Woman Flogged By LDU Soldier Graduates
Majority Mothers Strive To Educate Their Children Through hazardous Occupations
When the unprecedented catastrophe of COVID-19 engulfed the world from its cradle in Huan China, Uganda, in March 2020 wasn't left behind.
Government panicked a lot and slammed a lock-down to the country barring people from carrying out their daily trades.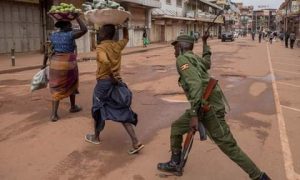 Hadijah Alayo Suffered At The Hands Of An LDU
Hadijah Alayo who was captured in this picture above, being beaten up by some LDU man during lockdown. Her crime was selling mangoes and oranges, in a bid to survive. Her daughter, Mbabazi Rose was amongst the graduands from Makerere last week. The story of this family represents so many of our backgrounds, and what parents have to endure to see their children succeed.
Advertising

In reference to the suffering that was not limited to starvation, ill health and death that arose out the mismanaged and longest lock down in Uganda, Kyagulanyi Robert Ssentamu the National Unity Platform  (NUP), Uganda's biggest opposition political party lamented about the pathetic situation which majority citizens find themselves in to eke a living.
"I am optimistic that if we each play our part, in the near future, we shall live in country where Ugandans are treated with dignity". Kyagulanyi stated