Museveni DRC Road Construction Halted
Constructors Dott Services Asked To Leave
Ugandan president Yoweri Museveni and his Democratic Republic of Congo (DRC) counterpart mutually agreed to construct a state of the art road connecting Eastern Congo to Uganda in 2020. A memorandum of understanding was signed to this effect.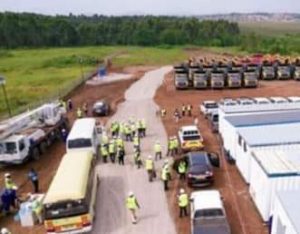 However, emerging information from DRC, indicate that due to some interference from United States, the steady progress on road construction has been halted.
President museveni's plans of constructing roads in Congo have hit a dead end after reports in forests deep in Congo say Dott Services construction workers have been ordered to stop any construction whilst they risk undesirable consequences.
Following orders from the USA to congolese president and government officials not to accept museveni's plans in DRC, now the State minister for the East African Community Affairs James Magode Ikuya has confirmed that the government of Uganda is in high level talks with officials from President Felix Tshisekedi over the Shs243.7bn road construction deal signed with President Museveni in 2020.
The Minister revealed that they have received a complaint from Dott Services Company which was contracted to construct roads from Kasindi-Beni, Kasindi-Butembo Axis and Bunagana-Rutshuru-Goma road projects that they were told to stop what they were doing and leave immediately.
Advertising

To share your views or comment on any of our stories, please reach us on any of the channels below:
Email: ugandatodayedition@gmail.com
Phone Office/Mob:
+256 414 500 640
+256 708 500 640
+256 772 500 640
+256 713 500 640
+256 702 239 337 WhatsAp
Website: https://www.ugandatoday.co.ug