It Isn't A Question Of If, It's A Matter Of When
A Darker Cloud Falls On The Family Of Samuel Majwega Musoke
A dark cloud befell on the family, the Mbogo clan and Uganda when Samuel Majwega Musoke changed his worlds from USA.
Samuel Majwega Musoke who was a personal friend to author, was one of Uganda's unsung heroes, an entrepreneur, an educationist, a cultural values' promoter  and a rare friendly and amiable person Uganda will  deeply miss.
WHO WAS MR. SAMUEL MUSOKE MAJWEGA
———————————————————
Early childhood life:
Mr.Samuel Majwega Musoke was born on 9th May 1959 in Kawanda, Wakiso District, to the late Wilson Lutakome Mukaddemwangu and Maria Rose Namusoke Nakimuli from a family of twenty siblings.
Advertising

Educational background:
Mr. Majwega completed primary education in 1973 and joined Mengo Senior Secondary School for his Ordinary Level studies.
He then joined Makerere College School for his Advanced Level studies. Mr. Majwega joined the Institute of Teacher Education -(ITEK) Kyambogo (currently Kyambogo University) for a Diploma in Education, specialing in Agriculture) and later on, enrolled and received a Master of Business Administration (MBA) from Nkumba University.
Business Career: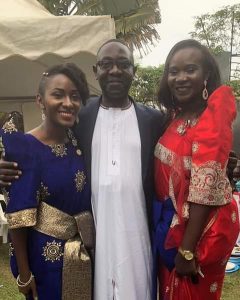 Mr. Majwega has been the CEO of MK Publishers Ltd. a leading schoolbook publishing House with branches in Kenya, Rwanda, Zambia, and Burundi.
He was also the proprietor of:
a) MK Crown Academy, MK General School Supplies,
b) SDM Properties,
c) Avance International University
d) WR Educational Placement,
f) and he facilitated collaborations with various international universities like: Bronston Canadian Academy, Axil International University, and Southern University Shreveport Louisiana (SUSLA).
Most recently, Mr. Majwega was in pursuit of his life passion of creating a University and Hospital (Avance International University and Avance University Hospital) which enabled him to realize an earlier dream of a life in Medicine.
Social responsibilities:
1. President of the Rotary Club of Bunga,
2. first Vice President of Uganda National Chamber of Commerce (2018-2020),
3. Chairperson of Uganda Publishers Association (2016-2020),
4. Member of Uganda Commonwealth Publishers Association (2019-2020).
5. Reigning Kattikiro(prime minister) of the Mbogo (buffalo) Clan and an staunch supporter of the Buganda Kingdom.
Family life:
Mr. Majwega  married  Stellah N. Musoke Majwega on November 11, 2000. He is survived by his mother (Maria Rose Namusoke), wife, siblings, cousins, nieces, nephews, sons-in-law, children, and grandchildren.
His children:
1. Doreen Nantume Tunson,
2. Daphne Elva Bukirwa,
3. Dianah Nabbanja Ballentine,
4. Daisy Namukwaya,
5. Druscilla Ritah Nankabirwa,
6. Immanuel Donald Kayanja,
7. Davis Willis Mugimu
8. Daniella S. Nambi Majwega,
9. Divine Rose Nankabirwa,
10. Denzel S. Sentamu Majwega,
11. Dativah Chantel N. Majwega,
12 Diamond Samuel L. Majwega,
Grandchildren: Darion, Leo, Bodhi, Canaan, and Eleazer.
Source: The family of Samuel Majwega Musoke