Major General Paul Lokech Is Dead
The minister of Internal Affairs, General Kahinda Otafiire, announced Major General Paul Lokech the Deputy Inspector of Police dead Saturday morning August 2021. Otafiire explained that Lokech had fractured his leg three weeks earlier and was under going treatment from his home.
Who is Paul Lokech? His biography, early life, education and controversies of deceased Deputy Inspector General of Police of Uganda Police Force.
Paul Lokech was a Ugandan senior military officer.
Until his death, he has been at the rank of Major General, in the Uganda People's Defense Forces (UPDF). Lokech who's much known for military service was appointed Deputy Inspector General of Police of the Uganda Police Force on 16 December 2020.
Advertising

He replaced Maj. Gen Stephen Muzeeyi Sabiiti. Sabiiti was appointed to deputize Martin Okoth Ochola on March 4, 2018, when Museveni sacked the then IGP Gen Edward Kale Kayihura and elevated Ochola who was his deputy to IGP.
Lokech was an eloquent man when he spoke, the reason why he was the media's best at the time he served as the Commander of the African Union Mission in Somalia (AMISOM), forces in the heat of the Mogadishu battles.
At the battlefield, Lokech understood situations and took quick action to avert battlefield disasters. He was a calm man which according to him helped him to make measured decisions.
Early Life and Education
Maj. Gen Paul Lokech was born in the Acholi sub-region in the Northern Region of Uganda.
Military Career
Maj. Gen Paul Lokech served Uganda People's Defense Forces (UPDF), in various leadership capacities.
Lokech was deployed twice, as the Commander of the Uganda contingent to Somalia, part of the AMISOM peacekeeping force. The first deployment was between 2011 and 2012.
His second Somalia rotation was from 2017 until 2018.
In his first deployment, Lokech commanded Battle Groups Eight and Nine, responsible for ejecting Al- Shabaab militants from Mogadishu in 2011.
Before his second deployment in Somalia, he was the Commanding Officer of the Second UPDF Division, based at Makenke Barracks, in Mbarara, in the Western Region of Uganda.
Lokech served as the Military Attache' at Uganda's Embassy to Russia, based in Moscow.
He has also served as part of Uganda's peace-keeping forces in South Sudan. He was deployed in November 2019. Gen Lokech was sent to South Sudan to monitor on behalf of the guarantors, screening, demobilization and integration of the armed forces of South Sudan.
Lokech was part of Operation Safe Haven (OSH), a UPDF operation in the Democratic Republic of the Congo intended to neutralize the rebel Allied Democratic Forces (ADF), commanded by now incarcerated Jamil Mukulu based by then in the Democratic Republic of Congo (DRC).
He served as the chief of staff of Uganda People's Defense Forces (UPDF).
Maj. Gen Lokech served as Chief of Staff of the UPDF Air Force, for five months. That's from 11 July 2019, until 11 December 2019. Before that, Lokech was the Commandant of Uganda Rapid Development Capability Centre (URDCC), in Jinja, the eastern part of Uganda from December 2018 until July 2019.
One of Lokech's most recent prominent assignments was heading Ugandans troops to significantly weaken the Somalia based Al-Shabab terror group in 2011.
Lokech became Major General in February 2019, when President Yoweri Museveni promoted over 2,000 men and women to various ranks in the UPDF.
As of that exercise, Paul Lokech was promoted from Brigadier to Major General. His name was inadvertently left off the original list, and the Uganda military apologized for that omission.
Military Journey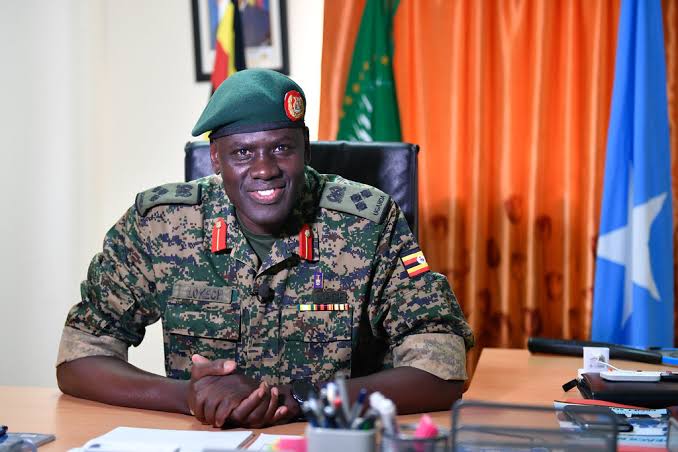 Maj. Gen Paul Lokech joined the UPDF in the mid-1990s. As a young boy Lokech actively participated in the battles in DR. Congo in the late 1990s and early 2000s.
After his training, he was quickly called to battle. As a major, he commanded the 65th UPDF Battalion in Kisangani during the DR. Congo war in 2001.
After the fighting in DR. Congo, UPDF units had to withdraw back home. Nonetheless, logistics could not allow for a quick withdraw. The Ugandan border was a whole 700km away and the only option available for the soldiers was to walk the distance through extremely rough terrain or stay forever in DR. Congo.
Some soldiers were scared, but Lokech decided to walk part of the group back to Uganda. The precarious journey took three months and triumphantly, the unit that included several T-55 battle tanks was received by President Yoweri Museveni in Kasese.
Lokech has a name in the annals of history of the UPDF.
In June 2011, while on assignment in Somalia, Lokech launched his first major offensive, capturing areas that were far behind Bakara market and Mogadishu stadium, which was the main operations base of the militants. He later called this manoeuvre 'the pincher'.
The battle was tough. "The enemy defended every inch, every corner, every tunnel, every building and every stretch of the territory they controlled in Mogadishu," Lokech said.
After a while, the enemy withdrew from Bakara, and again Lokech launched another operation, which he dubbed Operation Free Mogadishu and the enemy ran away from their positions, after incurring heavy casualties.
Lokech served as AMISOM contingent commander, from 2001 until 2012. He was again in Somalia between 2017 and 2018 as contingent commander.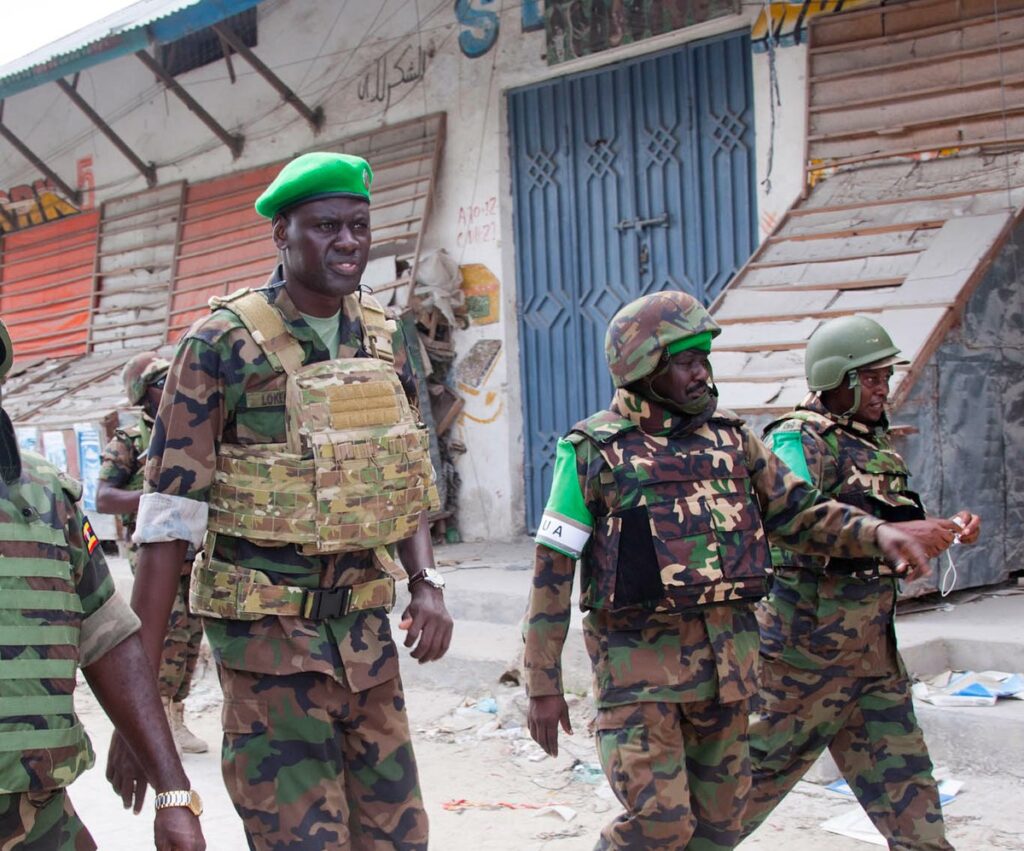 He previously served at the Uganda Mission in Russia and a division commander before his assignment in Somalia.
Lokech further served as air force chief of staff.
Maj Gen Lokech was assigned duties of feputy Inspector of Uganda Police force with a wealth of experience in leadership, administration and command. Lokech was one of the commanders credited for breaking the back of Al- Shabaab militants in Somalia when he was commander of UPDF contingent between 2011 and 2012.
Because of his relentless confrontation with Al Shabaab insurgents and capturing key historical places like the Red Mosque in Somalia's capital Mogadishu, the then Brigadier Lokech was nicknamed the 'Lion of Mogadishu.'
President Museveni then redeployed Lokech in 2017 – 2018 to Somalia still as UPDF contingent commander and when Lokech returned to Uganda, he was promoted by President Museveni to the rank of Maj. General.
He immediately posted him to Jinja to command the Uganda Rapid Deployment Capability Centre.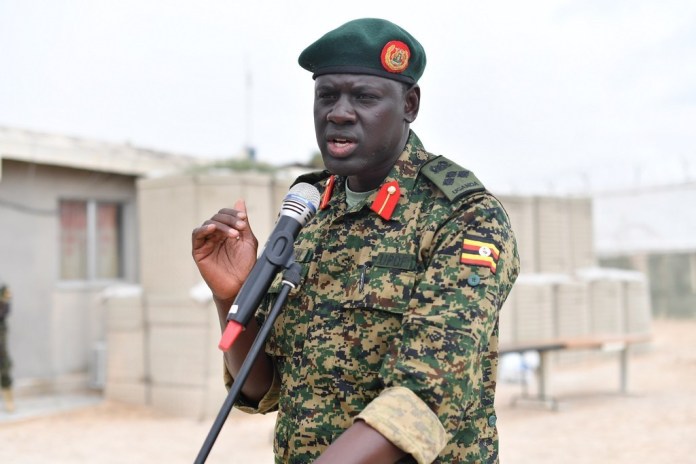 Controversy: Every cloud has a silver lining so perfection is seamlessly hard to find in any human being
Maj. Gen Lokech was briefly held by Police after an alleged confrontation with a senior traffic police officer, Ruth Kyobungi along Namugongo Road, Kira Municipality in Wakiso District.
Trouble started when ASP Kyobutungi stopped and questioned Lokech for driving on the road shoulder during the traffic jam near Club Agenda 2000 entertainment centre towards 7 pm.
The general lost his cool, slapping the female traffic commander. The Kampala Metropolitan Police Commander Moses Kafeero intervened to solve the matter as ASP Kyobutungi who had threatened to sue the General Lokech.
He was released without a charge but cautioned to respect traffic police officers something he reportedly acknowledged.