Dubai: Bobi Wine Detained
Released After Hours Of Anxiety And Interrogation
Former presidential aspirant in Uganda's 2021 and most violent elections ever witnessed the history of a landlocked country Uganda, Robert Kyagulanyi Ssentamu, also known as Bobi Wine, on the morning of October 08, 2022, using his Twitter handle put the world on tenterhooks when he sent a SOS message indicating that he was detained at Dubai Airport.
Follow us @ugtodaynews for comments.
Kyagulanyi, who doubles as the president of the National Unity Platform (NUP) party, says that he traveled to the UAE via Turkey on Friday for a charity concert intended to raise awareness about Ugandan migrant workers in UAE, and subsequently help those workers stranded in Dubai and Saudi Arabia.
"Landed in Dubai at 8:30 pm. It's now 5 am. I have been held and interrogated for 8 hours. They asked me about NUP, its leaders, their phone numbers, my family members, and their contacts! I have all the necessary travel documents. They confiscated my passport and my phone. Am literary under arrest," Kyagulanyi tweeted in the wee hours of Saturday October 08, 2022
Advertising

After an hour, he added that he had been held at the airport for almost 10 hours, being interrogated mostly about his political party before the authorities returned his phone, and passport and released him.
Another Tweet of Release
"After 12 hours, (8:30 pm to 9:30 am) I've been finally allowed into Dubai. Hoping that our charity concert, which seemed to be the source of these issues, will be allowed to proceed. We are only trying to raise awareness and assist the many Ugandan and African Immigrant workers," Kyagulanyi reported.
Why Kyagulanyi Decided To Stage Dubai Concert
It is not yet clear why the UAE authorities decided to detain Kyagulanyi but the development comes on a backdrop of complaints of rampant torture and inhumane treatment meted out to migrant workers by their Arab employers.
The UAE embassy in Dubai couldn't be reached for comment. Last month, the government started preparations to repatriate more than 500 Ugandan migrant workers who are stranded in gulf countries such as Saudi Arabia, the United Arab Emirates, and Oman among others.
Betty Among, the Minister of Gender, Labour and Social Development then said that the government was in advanced stages to repatriate the migrant workers who have severally complained against their employers. She said that some of the migrant workers had approached Ugandan Embassies for rescue while others shared video or audio clips with their families illustrating their ordeals.
The affected Ugandans include those who were lawfully externalized as domestic workers by the Government through the Ministry of Gender, Labour, and Social Development accredited labour externalisation companies and those trafficked by different unscrupulous recruitment organizations. In the UAE capital, Dubai, the Ugandan immigration Centre had already recorded complaints from 200 domestic workers, and 300 others in the Kingdom of Saudi Arabia whose employers reportedly confiscated their passports to deny them avenues to return home.
It is not clear when Government will finish the assessment of the workers for repatriation. Under section 66 of the Employment Act, the Recruitment of Ugandan Migrant Workers Abroad Regulations 2005, and 2015, a migrant worker is licensed for two years, but Among pointed out that the employers violate the provision by denying some of the workers exit visas.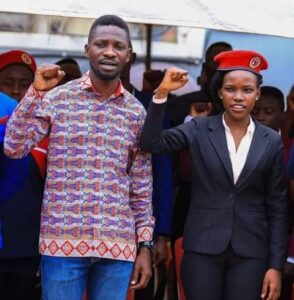 Ministry of Gender's report for 2016 and partly 2017 revealed that an average of 24,086 Ugandans leave the country annually to seek for greener pastures in the gulf.