Will Museveni's Simmering Hand Of Bribery Ruin FDC?
Nandala Mafabi, The Party's Secretary General And Amuriat The Party's President Are Squarely Accused Of Taking A Bribe Of 7B From Museveni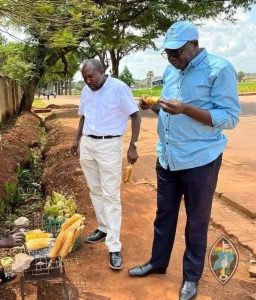 The Chairman FDC Mr.Wasswa Biriggwa being guided by his minders to climb FDC headquarters gate so as to exit the premises where he had been confined at the orders of the secretary general Nandala Mafabi, July 20, 2023.
Uganda Today: The biggest opposition political party hitherto 2021 general elections, Forum for Democratic Change (FDC) is irreversibly on the verge of crumbling courtesy of the invisible hand of Uganda's president.
Yoweri Museveni the country's president since January 26, 1986, while campaigning to return to power during the campaigns leading to 2016 general elections, vowed never to leave no stone unturned so as to obliterate "opposition by 2021"
Although his ultimum hasn't come to pass because he didn't envisage the emergence of National Unity Platform (NUP), a party that he couldn't have contained without unleashing unprecedented incarcerations, intimidation, torture and murder, what's is happening in FDC, with his hand of bribery cited, leaves glaring innuendos about his utterances in 2016.
Advertising

A climax of disagreement reached irreconcilable levels when the two factions of FDC protagonists held separate press conferences, one at Besigye's Katonga offices and the other for Amuriat and Nandala held at the Party headquarters at Najjanankumbi.
Besigye's faction, has the party's firebrands in the names of Kira Municipality member of Parliament Ibrahim Ssemujju Nganda and the Lord Mayor Erias Lukwago.
The duo vowed never to let Nandala  surrender FDC to president Museveni on a silver platter.
Cause of disagreement
Although Nandala Mafabi fell short of inadvertently accepting what the grapevine is awash with, alleging that he took a bribe of billions from Museveni, he insinuated that he and the party president aren't the first to be portrayed in the limelight of bribes from Museveni.
Nandala alluded to the 500m court awarded to the Lord Mayor Erias Lukwago alleging that it was "president Museveni who ordered court to award" him so.
In the same way, Amuriat instead of discussing substance, he merely accused Besigye of abandoning him during 2021 elections.
Dr. Besigye only appeared twice on Amuriat's campaign trail. It's alleged that Dr. Besigye had got wind of Nandala and  Amuriat's betrayal of the party by accepting Museveni bribery antics.
Uganda's president having failed to subjugate the emerging formidable NUP, infiltrated FDC with a bribe to erase NUP from the political scene.
It's thus not surprising that soon after the "do or die" charade elections that got Museveni bounce back as president, FDC's stalwart Owek. Nabbosa Ssebugwaawo, was snatched and offered a post in Museveni's government.