Why Is It That Pariahs Are Exalted In Uganda?
Social Media Patrons Are Fundraising For Deceased Private Sabiiti's Family
Uganda Today: According to Uganda's People's Defence Forces spokesperson Brigadier Felix Kulayigye, any soldier who turns the barrel of the gun to a person he is assigned to guard is a pariah and according to the army code of conduct, such a soldier if he doesn't kill himself the way Sabiiiti did, is supposed to face firing squad.
However, ordinary Ugandans, on the contrary, feel Kulayigye's stance is unjustified  and unpalatable since the infamous action of private Sabiiti unearthed grievances amongst many soldiers and other government civil servants of lower ranks who aren't entitled to fringe benefits and allowances. They have now started an online fundraising campaign.
The online campaign which has attracted criticism from some commentators given that Private Sabiiti, 33, committed murder before he also shot himself dead was prompted by his family members' revelation about their financial struggles and reports that the soldier had been shouldering heavy financial burdens of his family.
A section of social media users in Uganda have launched a fundraising drive to support the family of a Uganda People's Defence Forces (UPDF) soldier who shot and killed the State Minister for Labour, Employment and Industrial Relations.
Advertising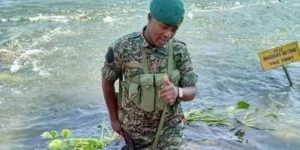 Private Wilson Sabiiti shot and killed Col (rtd) Charles Okello Engola on Tuesday morning at his home in Kyanja, a Kampala suburb.
However despite pronouncements from the army spokes person that government wont have anything to do with the burial of Sabiiti, social media enthusiasts portray private Sabiiti as a hero who deserves a decent burial and ensuing support to his family. His mother Keduresi is in advanced age and has been relying on her son to fend for his 6 children.
In 2009, the former Mayor of Kampala, the late Nasser Ntege Ssebaggala was convicted in USA for a crime of money laundering. Ntege Ssebaggala served  his sentence in America, but when he returned to Uganda, he received overwhelming standing ovation where multitudes of people swarmed streets right from Entebbe Airport up to Kampala welcoming the man who any sane person would call a pariah.
Indeed the subsequent Mayoral elections for Kampala Lord Mayor ship, Ntege Ssebaggala emerged victorious beating fancied NRM's Peter Ssematimba.