Wilson Sabiiti Etched His Name In The Annals Of Ugandan History
First Body Guard To Kill A Minister And Taking His Own Life As Well
Uganda Today:The hither to Tuesday 02 May 2023, unknown Ugandan army soldier private Wilson Sabiiti infamously etched his name in the annals of Ugandan history when he shot dead Ugandan state Minister for Gender, Labour Employment and Industrial Relations Charles Okello Engola and later on took his own life as well.
Who Is Wilson Sabiiti?
It is reported that Sabiiti was a problematic soldier who had just been assigned to guard the minister barely a month before.
Sabiiti formerly guarded Mike Mukula the vice chairman for eastern region for the country's ruling political party (NRM). Mukula found Sabiiti exhibiting queer conduct and wrote to mother ministry to withdraw him.
Sabiiti struggling financially, yet fending for the wider family, on top of paying tuition fees for both his four offspring and two children of an uncle.
Advertising

His mother, Ms Uwezeyi Keduresi, told the press that they were shocked to learn that their Sabiiti had shot and killed his boss, Col (rtd) Charles Patrick Okello Engola, on the morning of Tuesday, May 2, 2023.
The family of army Private Wilson Sabiiti in Mubali Village, Kijura Town Council in Kabarole District, woke up still in disbelief at the news that their son and brother, generally much-loved member of the rural community, had killed a minister before taking his own life.
After all, this was a young man, who had shown himself to be a responsible person, taking up the role of sole breadwinner of the wider family almost from the moment their father, John Karimuda, passed on in 2016.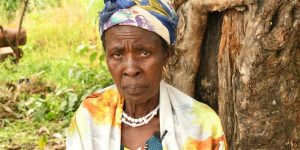 But this responsibility appears to have placed such a huge burden on him that he appeared to have become increasingly frustrated by the inability to make ends meet.
His mother, Ms Uwezeyi Keduresi, told this publication yesterday that they were shocked to learn that their Sabiiti had shot and killed his boss, Col (rtd) Charles Patrick Okello Engola, on the morning of Tuesday, May 2.
Living a humble life in the village, Keduresi said she does not know what the future holds for them now.
"I don't know what I will do to look after this family he has left behind. When his two wives left him, he brought all the children to me, he was paying their school fees but now I am going to be stuck. In the whole village, he was loved by everyone," she said.
She appealed to the government to bring the body of her son back home so that they can give him a decent burial. But she is also not sure about the possibility of this happening, saying since the incident, they have not heard from the government.
Ms Keduresi said she last talked to him on Monday evening and he had promised to come home soon to check on them.
"On Tuesday, at 7pm, I was listening to radio news, I heard that Wilson Sabiiti has killed his boss and also killed himself. I started asking myself: 'Is he my son or someone else?' Because the name was similar like that of my son. I kept quiet and I called his phones and all were off until Wednesday morning when people came to my home and told me that he is the one," she said.
The trauma of the shooting is beginning to sink in with Ms Oliver Musiimenta, Sabiiti's younger sister pleading with the government to forgive their family.
Relatives and friends of Private Wilson Sabiiti at his home in Mubali Village, Kijura Town Council in Kabarole District yesterday.
Ms Musiimenta revealed that her brother joined the army in 2007 after their parents could no longer pay his school fees.
She said immediately after joining the UPDF, he started paying her fees and also looking after the family.
"We grew up together, he loved church. Later, our father became disabled and he decided to drop out of school to join the army so that he could pay my school fees and look after our family. He has not drank alcohol since his childhood and we are still wondering how he killed himself and his boss," she said.The soldier's wives, she said, left because they could not manage life in the village.
"What we shall keep remembering about him is his love; whenever he would come to the village all people would gather at home. He loved old people, he would not leave the village without greeting all the old people," she said.
Sabiiti last visited the village on December 15 last year although he usually communicated to family members over the phone, his sister said.
He had called and spoken to her on Wednesday last week when he asked for Shs10,000 which she sent him.
"Again, he called me on Monday but I did not talk to him because my phone was charging and I had no airtime to call him back but he talked to my mother. What I remember most of the time he used to call me is that I should send him Shs20,000 such that he can buy what to eat because at times he would say they have not paid him salary. I would try all means to see that I give him money, he would tell me that even where they are they have nothing to eat," she said.
Whenever she failed to raise money, Ms Musiimenta said she talked to their mother and asked that she sends him money for his upkeep.
"Few weeks ago, he called me to say that he will not be able to pay fees to zero balance and if they can they should stop schooling until he gets money. He told me that for the one in senior three he had called the school head teacher to allow her sit exams. Up to now they are still demanding the fees balance, and for another one in primary seven, they are also still demanding fees," she said.
Ms Musiimenta paints a picture of her brother as someone who was struggling financially; fending for the wider family on top of paying tuition fees for both his four offspring and two children of an uncle.
At one point, the soldier reportedly appeared to have given up on educating his children, telling Ms Musiimenta that the children will not sit exams this term because he was tired of disturbing her to keep looking for school fees.
Mr Saidi Biryomumisho, the elder brother, also confirmed that the soldier was spending his pay on looking after the family – something which probably strained him given the relatively low salary soldiers earn.
"When he joined the army our family became happy because he started earning money and supporting our family. When our father died in 2016, he took that responsibility," Mr Biryomumisho said.
 Education background
Sabiti went to Kahuna Primary School in Kijura where he completed primary seven. He went on to study in the neighbouring Bunyoro sub-region for his O'levels at Vicar Foundation Secondary School but dropped out in senior two after his parents failed to pay tuition fees.
"At that time our parents had no money and he decided to drop out of school, and at that time they were recruiting people to join UPDF so he asked our parents to let him join so that he can have money to look after us," Ms Musiimenta said.
She added that Sabiiti was 33-years-old at the time of his death. Before joining the army, Sabiti married his first wife with whom they produced two children. He later got himself a second wife who also produced two children.
Both women left but according to his sister, Sabiti was living with another woman in Kampala before his death. She is not sure whether they any children.
The tragic events of Tuesday morning have cast a shadow over Kijura Town Council, with area sub-county councillor Eric Sanyu saying the whole village is in shock because they were expecting a lot from Sabiti.
"For us as a village, we have lost a person who loved people and church. Last year, he bought music instruments for Mubali Church of Uganda but unfortunately, he passed on when Christians were still expecting much from him," the councillor told Daily Monitor.
Mourners started gathering at the modest family home. It is, however, not known when burial will take place because they were still waiting for communication from the government.