Ruto's Cancelled Trip Ignites Serious Debate
A section of Kenyans want the Deputy President William Samoei Ruto summoned by the Directorate of Criminal Investigations – (DCI) to answer queries related to his frequent visits to Uganda without authorisation.

In six (6) months he has visited Uganda 5 times, meeting the president of Uganda, Yoweri Museveni without clearance from president Uhuru Kenyatta. What were they discussing behind Kenyatta?
The Deputy President is accused of travelling around the region with serious terror suspects like HARUN AYDIN. Why? A section of Kenyans think he should answer.
HARUN AYDIN has accompanied him on a trip to Zanzibar and again, part one he was on his entourage to Uganda. Mr AYDIN is a global mercenary, a believed to be working closely with leaders of not well-intentioned groups. Questions arise, what was Ruto doing with him in?
Advertising

What business is he doing in Uganda? Is it legitimate?
Is the peace of Kenya under any threat?Does his trip (s) have anything to do with 2022 general elections and the aftermath? If yes, what is he planning to do just in case the outcome of the elections does not favour him?
Meanwhile, the whereabouts of Turkish businessman Harun Aydin, who was part of Deputy William Ruto's delegation to Uganda remained a mystery after it emerged that he was not part of the returning team.
It also emerged that the businessman had checked out of a city hotel where he has been staying since June, Room 047 Radison Blu hotel. It was not immediately clear who checked him out.
Sources intimate that Immigration officials had stormed the hotel seeking to question the man who has been linked to terrorism.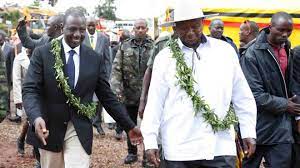 A manifest seen reveals that while MPs Oscar kipchumba Sudi, Ndindi Nyoro, Benjamin Tayari, businessman David Langat and Dr David Kipkoech jetted back in the country, Aydin did not fly with them from Entebbe.
Others who did not take the flight to Nairobi via Eldoret were Dr Eric Ruto and Elijah Rono.
The plane flew to Eldoret from Entebbe where Sudi, Langat, Kipkoech disembarked before it proceeded to Nairobi with Tayari and Nyoro.
It remained unclear under what circumstances the Turkish businessman, who has a tourist visa was swiftly checked out of the hotel.
And yesterday, the Kenya government is said to have written to the Turkish Embassy in Nairobi seeking clarification on the identity of Aydin and reasons for his frequent missions to Nairobi.
Private trips;
Sources at the Ministry of Foreign Affairs intimated that the government was concerned with Aydin's alleged dark past and has asked the embassy to provide it with more details.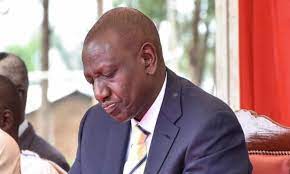 "The Kenyan government has decided to wait for a clarification from the Turkish Embassy in Nairobi before it can decide what necessary step to take,"a source at the Foreign Affairs Ministry said.
Concerns have also been raised on the Deputy president's private trips most of which are not known by the authorities. Ruto was in Uganda last month where he was hosted by President Yoweri Museveni.
"He went to Uganda and later Zanzibar for a private meeting with local businessmen, which are not known to authorities.
Aydin, who first arrived in the country in May 2018, has allegedly made several trips outside the country together with Ruto.
He has also been a frequent visitor to Kenya through the Jomo Kenyatta International Airport (JKIA).
According to reports, Aydin who holds passport number U20470175, had previously been arrested in Frankfurt, Germany, in October 2001 on charges of "having planned serious acts of violence as a member of a terrorist group with an Islamic fundamentalist background".
During the arrest, Aydin then aged 29, was a student who had been living in Germany.
According to The New York Times and other media houses, a Frankfurt court described Aydin as a leading member of a militant group based in Cologne and led by Muhammed Metin Kaplan.
Kaplan's group of 1,300 people, most of them Turkish, is known as the Federation of Islamic Associations and Communities.
Aydin was charged with having planned serious acts of violence as a member of a terrorist group with an Islamic fundamentalist background.
He was found with luggage containing camouflage clothing, a chemical-weapons protection suit, a ski mask and materials to produce an explosive detonator.
Holy warriors;
Investigators also found in his luggage were CD-ROM with a training video for Islamic holy warriors, a suicide note to his wife and a last testament, according to a local newspaper based in Cologne, Germany.
He was also accused of giving instructions for serious crimes such as murder and manslaughter in several incidences.
His lawyer, however, said he was flying to Tehran (Iran) for a book fair and had agreed to take a suitcase for another Turkish passenger with excess luggage.
It is one of the religious-based organisations that is likely to be banned as soon as a new German law goes into effect that will remove the constitutional protection for hate speech provided to faith-based organisations.
Before the arrest, Aydin had been sentenced to four years in jail after he was found guilty of advocating the murder of a rival, Halil Ibrahim Sofu, but was later acquitted.
But Kapsaret MP Sudi, who was among the MPs briefly detained at the Wilson airport before being allowed to travel to Kampala, described Aydin as a Turkish investor interested in modern fruit farming and not a terrorist as alleged in media reports.
Equity Bank contradicts the Deputy President on his theory of a phone call to bail out an investor of the supposed vaccines factory in Matuga-Kampala, the one he jointly launched with the Uganda's president Yoweri Museven.